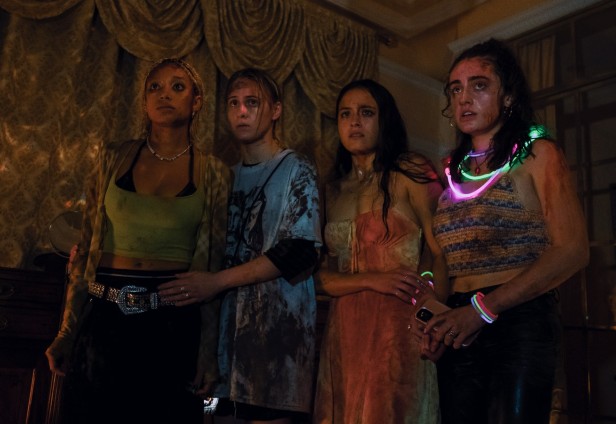 'Bodies Bodies Bodies', 'Barbarian' and 'Monstrous', Sitges 2022's Surprise Trio
The Sitges Film Festival multiplies its many surprises, presenting three of this year's most eagerly awaited genre films
The classic surprise screening on the Festival's closing Saturday finally has a title: Bodies Bodies Bodies, Halina Reijn's second feature film, will be in charge of putting the finishing touch to Sitges 2022. This long awaited horror comedy, arriving courtesy of A24, has been defined as a bloody milestone in 21st century horror movies with its satirical portrayal of the Z generation. Featuring a cast that includes familiar names like Lee Pace, Pete Davidson and Amandla Stenberg, Bodies Bodies  Bodies places a group of wealthy twenty-somethings at a party plagued by backstabbing and false friendships. 
But in addition to Rejin's film, the Festival will be offering a surprise double bill with two of this year's most interesting horror films. Barbarian, Zach Cregger's first solo feature, promises to terrify Sitges' audiences with the story of a young woman traveling to Detroit for a job interview who, once she arrives in the evening at the house she has rented, discovers that a strange man is already staying there. Despite her fears, she decides to spend the night, but soon discovers that there's much more to fear than an unexpected guest. Bill Skarsgård and Georgina Campbell star in this perverse drama that will be available in the homes of Disney+ users on October 26th. And it will be forming an explosive duo along with Monstrous, the unsettling film directed by Chris Sivertson and starring Cristina Ricci, about a traumatized woman who has fled from her abusive ex-husband with her young son, only to be threatened by an even more terrifying monster.
The first of these two celebrations will take place on Saturday 15th at 10:30 p.m., following the closing gala, while the surprise marathon will be held late night Saturday and into the early hours of Sunday morning starting at 1:00 a.m., the best way to bring the Festival's 55th edition to a close.