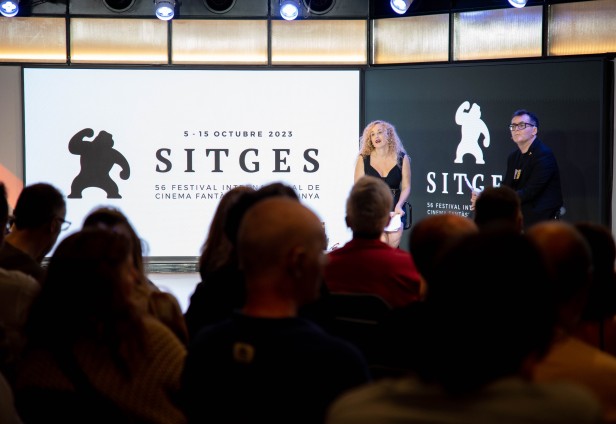 The Festival's 56th Edition Kicks Off by Announcing its Complete Lineup
The latest creations from Hayao Miyazaki, Yorgos Lanthimos, Takeshi Kitano, Hideo Nakata, and many, many more, will be with us. With less than a month to go for the opening of the SITGES - International Fantastic Film Festival of Catalonia, we know that you're anxious to know all the films and the lineup so you can start getting your schedules in order to get them ready. Well, wait no longer! We bring you a long list of films that will make any genre fan's mouth water, with some of this year's most eagerly awaited and promising horror, sci-fi and fantasy films. 
Barcelona, September 12th, 2023. Ángel Sala and Mònica Garcia i Massagué are the key players in the most eagerly awaited press conference (open to the public) for Festival fans, as they present all those productions that we had been preparing since the first announcements we made during July. Big names, debut features, classic gems to be rediscovered... Grab your lists and start taking notes. 
Revealing Five Award Winners  
We can finally announce five award winners at this year's Festival, five absolute benchmarks in diverse genres and fields of film production. Hideo Nakata, the Japanese director who made everyone's blood run cold with 'THE RING' the Japanese director who made everyone's blood run cold with 'THE RING' and who picked up the award for Best Feature Film at the Festival's 1999 edition, will be receiving the Time Machine Award. Nakata is one of the most influential horror directors of the last two decades, being one of the first to export J-horror to the West. In addition, his latest film, 'THE FORBIDDEN PLAY' will be screened as part of the Panorama section. Meanwhile, Phil Tippet, creator of the colossal 'MAD GOD' and winner of two Academy Awards for his work as visual effects supervisor on 'STAR WARS: EPISODE VI - RETURN OF THE JEDI' and 'JURASSIC PARK', will receive the Honorary Grand Prize. The third award winner is Jan Harlan, producer known for being the man behind Stanley Kubrick's work from 'A CLOCKWORK ORANGE' to 'EYES WIDE SHUT'. In addition, 'THE SHINING', one of his most famous productions, will be screened during the Festival. It has also been confirmed that J. A. Bayona, one of the Festival's favorite sons, on the occasion of the presentation in Sitges of 'SOCIETY OF THE SNOW', his latest work, will receive the Time Machine Award, thus solidifying our relationship (the which broke out with his unforgettable debut, 'THE ORPHANAGE') with one of the most international filmmakers in our cinematography. Finally, the fifth award winner will be Lee Unkrich, director and animator responsible for some of Pixar's greatest hits such as 'TOY STORY 3' or 'COCO', who will receive the Time Machine Award. In addition, Unkrich will be giving a masterclass in which he will talk about his career. 
And We Already Have Our Jury for SITGES2023 
One of the most fundamental aspects of a good Festival is the presence of a good jury and this year we are extremely proud of the chosen representatives. The members of the Official Selection jury will be French musician, art director and producer Jérome Paillard, Spanish actress Ana Torrent, American director and producer David C. Fein, British film critic and writer Kim Newman and Australian critic Alexandra Heller-Nicholas. As for the Noves Visions / Anima't jury, the three people selected are: actress and art director Katharina Kubrick, multidisciplinary artist and Catalan film director Sergio Caballero and the founder of the film consultancy Moebius Entertainment and member of the Hong Kong Film Critics Society Fred Tsui. Swiss producer Max Karli, the cultural manager Agnela Domínguez and film critic Júlia Olmo will be in charge of allocating the Órbita section's awards. With regard to the critics' jury, the Spanish critics Francesc Miró, Antoni Peris and Ylenia Cañadas will be in charge of presenting the Golden Méliès Award. Another critic and journalist, in his case British, Matthew Turner, Canadian critic and writer Alexandra West and Irish writer Maura McHugh will be the three members of the Méliès d'Argent jury. Jaume Balagueró, director and screenwriter; Marta Grau, screenwriter, writer and script editor, and Alfonso de Vilallonga, cinema composer, vocalist and songwriter, will be part of the Jury of the SGAE Nova Autoria Awards.
Some Very Special Screenings  
Let's begin our review of the new titles announced with the films that will be part of the Official Fantàstic Selection but not competing for awards. Some of them are among this year's most eagerly awaited, as is the case of 'POOR THINGS', the latest film from Yorgos Lanthimos, brand new winner of the Golden Lion at Venice.  A fabulous Emma Stone stars in a story about female empowerment with fantastic touches and the humor that characterizes Lanthimos' work. Another big name, this time national, is J. A. Bayona who will be presenting, 'SOCIETY OF THE SNOW' which closed the Venice Film Festival a few days ago. We will also be screening 'THE BOY AND THE HERON', the latest film by animation legend Hayao Miyazaki; a movie that has been a smash hit in Japan despite having been released without any kind of promotion: no trailers, no images, not even a synopsis. 
Other names featured in these special screenings include one of Spain's most international directors, Daniel Benmayor, who will be presenting, for the first time, the sci-fi thriller 'AWARENESS'; Portuguese director Gabriel Abrantes will also be arriving with a thriller, 'AMELIA'S CHILDREN'; if we return to classic science fiction, 'UFO SWEDEN' from the Swedish filmmakers' collective Crazy Pictures, is a prime example, as is 'ALIENS ABDUCTED MY PARENTS AND NOW I FEEL KINDA LEFT OUT', although in this case American director Jake Van Wagoner plays more in the realm of comedy. The case of 'THE TOXIC AVENGER', the highly anticipated remake of the 1984 cult classic by American director Macon Blair is similar. 
And finally, a more classic film that will delight all horror fans: 'BLOOD' by Brad Anderson, a shocking film that, despite its supernatural elements, stands out for the realism that envelops the story. 
And for the most extreme fans, we have the two films that will be part of Official Selection's Midnight Special: 'GOD IS A BULLET', action thriller by American director Nick Cassavetes, which features an amazing cast lead by Nikolaj Coster-Waldau and 'THE DEEP DARK', a chilling example of a monster film directed by Mathie Turi, who was in the Festival 3 years ago with the surprise hit 'THE TUBE'. 
New Contenders in the Official Selection 
In our first announcement in July, we gave you a preview of a large part of the lineup in the Official Selection (SO). However, if you thought we were almost finished with the section, you were wrong, because we still have 13 of the very best fantastic genre films to announce.  
So let's begin with Japan, a country with two representatives and one of them already knows what it's like to win in Sitges. He did it 20 years ago, with a samurai film entitled 'THE BLIND SWORDSMAN: ZATOICHi'. That's right, Takeshi Kitano returns to the official selection and to the jidaigeki genre with 'KUBI', one of the big sensations at Cannes. Meanwhile, Yûta Shimotsu, the other Japanese director participating in the Official Selection, presents 'BEST WISHES TO ALL', a debut feature that explores the limits of what we would do to find happiness. Continuing our journey through Asia, we find a film that is destined to become a cult classic: 'KILLING ROMANCE', a blend of love story, suspense and comedy directed by Lee Won-suk. 
Added to the previously announced Spanish national representatives is Aritz Moreno, returning to Sitges with the world premiere of 'MOSCAS', a thriller that begins with the discovery of a disfigured corpse tied to the trunk of the protagonist's car. Meanwhile, France presents a total of three more films in the Official Selection: 'LA MORSURE' directed by Romain de Saint-Blanquat, a supernatural drama about a girl convinced that she's living the last day of her life, 'SALEM' directed by Jean-Bernard Marlin, a thriller set in the slums of Marseille that uses the fantastic genre as a vehicle for social criticism, and 'WAKE UP', a French production by the Quebec trio known as RKSS, a sample of teenage horror seasoned with the most twisted sense of humor. Another Québécois director present in the Official Selection (SO) is Pascal Plante, who will be bringing an unsettling thriller about the hidden dangers of the internet entitled 'RED ROOMS'. 
One of the debuts of the year, 'THE SEEDING' by American director Barnaby Clay will also be in the Official Selection (SO), a work that is an allegory about the human condition with a horror tone and a strong auteur flavor. Norwegian director Magnus Martens, meanwhile, will transport an American family to a remote cabin in the mountains of Norway, a recipe for terror entitled 'THERE'S SOMETHING IN THE BARN'. German filmmaker Timm Kröger takes us back to the 1960s with 'THE THEORY OF EVERYTHING', an elegant black-and-white thriller set against the backdrop of the fierce nuclear arms race.  
The rotoscoped animation of 'WHITE PLASTIC SKY' will also be featured, a film directed by Tibor Bánóczki and Sarolta Szabó set in a post-apocalyptic Budapest. Finally, a sample of folk horror couldn't possibly be absent: 'SORCERY' directed by Christopher Murray, a co-production between Chile, Mexico and Germany that takes us to the Chiloé Island for a story about sorcery and revenge.
Órbita: the Ultimate Asian Section  
The Sitges Film Festival has always been a meeting point for fans of Asian filmmaking and this year the lineup in the Órbita section, reserved for those genres bordering on the fantastic such as thrillers, suspense or action, is proof that SITGES2023 remains faithful to its global spirit. Taking into account the importance of thrillers in this section, it is not at all surprising that South Korea emerges as the queen of the film selection, as four new titles have been added to the previously announced 'THE ROUNDUP: NO WAY OUT: Um Tae-hwa's 'CONCRETE UTOPIA', a disaster film that was as big a hit at Cannes as it was in Korean box offices this summer, Ahn Tae-jin's 'THE NIGHT OWL', a thriller about a blind acupuncturist who turns out to be the only witness to a murder, Ryoo Seung-wan's 'SMUGGLERS', a crime thriller set in the 1970s in a small coastal town, and 'THE CHILDE', a drama with thriller nuances directed by Park Hoon-jung, one of the most acclaimed Korean genre directors (along with Ryoo Seung-wan) of the last decade. 
Continuing with Asian films, we find a name that is synonymous with Sitges (he even shot a film here) and that could not be missing: Takashi Miike who brings us 'LUMBERJACK THE MONSTER', his latest madness. A thriller from Hong Kong couldn't be absent here either, and Soi Cheang's 'MAD FATE' is joined by 'WHERE THE WIND BLOWS', a film directed by Philip Yung and featuring a stellar cast headed by Tony Leung. Also hailing from the periphery (but on the other side) are 'PROPRIEDADE' by Brazilian director Daniel Bandeira, a claustrophobic story about a traumatized woman forced into an extreme situation and 'THE EXTORTION' by Argentine filmmaker Martino Zaidelis, an ingenious thriller about a pilot forced to collaborate with the national intelligence services. 
This section will also include two American films: 'BLACK FLIES', a thriller directed by Jean-Stéphane Sauvaire and starring Tye Sheridan and Sean Penn, and Francis Galluppi's 'THE LAST STOP IN YUMA COUNTY', another thriller where a knife salesman is taken hostage by a group of bank robbers. 
And we conclude our tour of Órbita around Europe with four more films: the British action thrillers 'JACKDAW' directed by Jamie Childs (making his feature film debut) and 'JERICHO RIDGE' from Will Gilbey, by now a Festival regular; 'NIGHT OF THE HUNTED' by French director Franck Khalfoun and 'DIABOLIK: GINKO ATTACKS', the sequel from brothers Antonio and Marco Manetti, who also presented the first installment in Sitges. 
Panorama: the Best Contemporary Horror  
The Panorama section offers us Spain's premieres of some of this year's most interesting horror movies. This time we'll begin with the USA, the country with the most representatives in this section: Anna Zlokovic presents 'APPENDAGE', a horror film with touches of humor but that is still genuinely terrifying, Larry Fessenden presents a new display of lycanthropic horror with 'BLACKOUT', the horror story 'LAST STRAW' narrated from two different angles and directed by Alan Scott Neal and 'THE SACRIFICE GAME', the survival story of two young students directed by Jenn Wexler. Also from North America, in this case Mexico, comes 'RABIA', another werewolf film with Jorge Michel Grau behind the cameras. From the other Australian side we find two canonical horror productions: 'GODLESS: THE EASTFIELD EXORCISM', a story based on true events directed by Nick Kozakis and 'YOU'LL NEVER FIND ME' directed by Josiah Allen and Indianna Bell.  
This section's Asian selection, while not as extensive as in Òrbita, is also very significant with the presence of two Japanese films, '#MANHOLE' from Kazuyoshi Kumakiri and the aforementioned 'THE FORBIDDEN PLAY', the latest film from Hideo Nakata, the Korean 'PROJECT SILENCE' directed by Kim Tae-gon, which premiered at this year's Cannes Film Festival, and the Hong Kong horror-comedy 'LET IT GHOST' by Hoi Wong. And finally, regarding our European representatives, a total of four films will compete for this section's award: 'NINA DEI LUPI' by Italian director Antonio Pisu, 'RESTORE POINT' from Czech director Robert Hloz, 'SUPERPOSITION' by Danish filmmaker Karoline Lyngbye and 'HOOD WITH' by French director Saïd Belktibia. 
Added to all these titles are five films that will be screened out of competition: the Japanese 'IMMERSION' by Takashi Shimizu (another big name in J-horror) and both parts of the live-action movie 'TOKYO REVENGERS 2' directed by Tsutomu Hanabusa; the horror comedy 'CUANDO LOS AMOS DUERMEN' by Spanish director Santiago Alvarado Ilarri and the stop motion film 'THE PRIMEVALS', passion project of legendary animator and visual effects supervisor David Allen, which has been completed more than 20 years after his death. 
20 Years of Noves Visions 
The Noves Visions section, which is celebrating its 20th anniversary this year, is ideal for discovering small gems that may not be as commercial or as well-known as the rest. On the occasion of its anniversary, there will be a special screening of 'LE MÉPRIS' by Jean-Luc Godard in 4K, a film that perfectly represents the spirit of the section. For this year's edition, the array of countries represented is so varied that no country has more than two representatives. Among them are Belgium with Jessica Woodworth's 'LUKA' and Luxembourg (with Belgian participation) with Loïc Tanson's 'THE LAST ASHES', Japan with Ryo Takebayashi's 'MONDAYS: SEE YOU "THIS" WEEK! ' and 'RIVER' directed by Junta Yamaguchi (auteur of the huge sensation 'BEYOND THE INFINITE TWO MINUTES'), France with Adrien Beau's 'VOURDALAK' and Céline Rouzet's 'FOR NIGHT WILL COME' and Canada with Jacqueline Castel's 'MY ANIMAL' and Ariane Louis-Seize's 'HUMANIST VAMPIRE SEEKING CONSENTING SUICIDAL PERSON'. 
The section's lineup is completed by Greek director Kyros Papavassiliou's 'EMBRYO LARVA BUTTERFLY', Hungarian director Isti Madarász's 'HALFWAY HOME', American director Mike Cheslik's 'HUNDREDS OF BEAVERS', Spanish director Borja de la Vega's 'LA ÚLTIMA NOCHE DE SANDRA M.', 'MIMÌ - PRINCE OF DARKNESS' by Italian director Brando de Sica (grandson of the legendary Vittorio De Sica), the Indonesian-Singaporean co-production 'MOTEL MELATI', directed by Mike Wiluan and Billy Christian, 'RAGING GRACE' by British director Paris Zarcilla, 'THE FUNERAL' by Turkish director Orçun Behram, 'THE INVISIBLE FIGHT' by Estonian director Rainer Sarnet and 'COBWEB' by Korean director Kim Jee-woon, which will close the section. 
You'll Find The Very Best Animation in Anima't  
Anima't is undoubtedly one of the Festival's most charming sections. As is usual every year, Japan demonstrates its status as an animation powerhouse, with a total of three in-competition films: 'KOMADA – A WHISKY FAMILY', an original story by Masayuki Yoshihara revolving around a family and their workplace; 'LONELY CASTLE IN THE MIRROR' from Keiichi Hara, film where mirrors become gateways to other realities and 'SAND LAND', a feature film based on a work by Akira Toriyama (creator of Dragon Ball and the film's writer) directed by Toshihisa Yokoshima.  
From Spain we find 'HEAVIES TENDRES', the story of two young people who find refuge in heavy metal music and which is directed by Joan Tomàs, Carlos Pérez-Reche and Juanjo Sáez. Czech director Filip Posivac presents 'TONY, SHELLY AND THE MAGIC LIGHT' after winning the special jury award in the Contrechamp section of the Annecy Festival; a touching story of friendship and diversity made using stop motion. Finally, a French production couldn't be missing here: 'MARS EXPRESS' from Jéremie Périn is a film that navigates between science fiction and detective story.  
In addition to the films that will be competing, four other features will be screened as part of the Anima't section: the Japanese films 'FEAST OF AMRITA' by Saku Sakamoto and Shojiro Nishimi's 'PHOENIX: REMINISCENCE OF FLOWER'; the 1982 classic 'THE MASTERS OF TIME' by French filmmaker René Laloux (with character design by Moebius), a screening that, additionally, will be in 4K, and another classic from 1984, namely American filmmaker R. O. Blechman's 'THE SOLDIER'S TALE'. These last two screenings will also be part of Sitges Clàssics. 
Also in the Anima't section but within the framework of Sitges Clàssics we will have a very special short film session: '100 YEARS OF WALT DISNEY ANIMATION STUDIOS: A TRIBUTE TO THEIR SHORT SHORTS'. The screening will include a total of 11 short films, that spans from the 20s and 30s to others from the last decade.
Rediscovering Familiar Classics (and Others Not as Familiar)  
This year's Sitges Clàssics section presents an excellent combination of classics that need no introduction whatsoever among horror movie fans and other, lesser-known films that deserve recognition. In this first group we would find the 4K versions of William Friedkin's 'THE EXORCIST', Stanley Kubrick's 'THE SHINING' and Robin Hardy's 'THE WICKER MAN'. Other films that we would include in this first group are 'KING KONG', the original version directed by Merian C. Cooper and Ernest B. Schoedsack, which celebrates its 90th anniversary this year, celebrates its 90th anniversary this year, 'STAR TREK: THE MOTION PICTURE - THE DIRECTOR'S EDITION', the most recent version of the first Star Trek feature film, or 'THE RAID' by Gareth Evans, which despite not being a classic in terms of its age, is still a classic due to the impact it caused in 2011 when it was screened for the first time in Sitges. 
As for the second group, although they aren't as well known, these films are just as interesting: 'SIESTA', Mary Lambert's feature film debut, the fairly recent 'LAKE MICHIGAN MONTSER' by American director Ryland Brickson Cole Tews, 'PSYCHIC VISION: JAGANREI' by Japanese director Teruyoshi Ishii, 'DON'T TORTURE A DUCKLING', one of the best films by one of the great masters of giallo, Lucio Fulci, 'THE MASK OF SATAN' by Italian director Lamberto Bava (Honorary Prize winner at this 56th edition), and 'JUNGLE HOLOCAUST' also by and Italian filmmaker, Ruggero Deodato, and the 4K screening of 'Extra Terrestrial Visitors' directed by Juan Piquer Simón. And to round off this year's selection, a double Bruceploitation bill with 'ENTER THE GAME OF DEATH' by Joseph Velasco and 'THE DRAGON LIVES AGAIN' by Chi Chih Lo. 
And don't forget that the retrospective titled 'Ciudad Pánico', which pays tribute to those cities of cinema that become catalysts of terror, will also be held. A total of seven films will be screened within the retrospective: 'DON'T LOOK NOW' by Nicolas Roeg, 'NAKED LUNCH' (4K) by David Cronenberg, 'GOD TOLD ME TO' (4K) by Larry Cohen, 'HOLLYWOOD 90028' ' (4K) by Christina Hornisher, 'THE HOUSE WITHOUT BORDERS' by Pedro Olea, 'LOS ÚLTIMOS DÍAS' by Àlex and David Pastor and 'PÁJAROS DE CIUDAD' by Jose María Sánchez Álvaro. 
Non-Fiction at the Sitges Film Festival  
The Sitges Festival has also always been committed to non-fiction that reflects on genre and on relevant themes because of the context of the works that have been seen over the course of its history. In the Sitges Documenta section, we can see some of last year's most interesting documentaries on horror and genre films in a more general sense, a large number of which will be arriving from the USA. A few examples are Mark Schniff's 'THE HISTORY OF METAL AND HORROR', which explores the relationship between heavy metal music and horror movies; Kyra Elise Gardner's 'LIVING WITH CHUCKY', a documentary about the franchise featuring the world famous diabolical doll; Alexandre O. Philippe's 'YOU CAN CALL ME BILL' about William Shatner, an actor best known for his role as Captain Kirk in the Star Trek series, or 'KIM'S VIDEO', where viewers will embark on an adventure to recover a legendary collection of movies from a New York video store that have been lost halfway around the world. 
And from Great Britain arrive two documentaries that will be participating in this section: Simone Scafidi's 'DARIO ARGENTO PANICO', a closer look at the work of a highly celebrated filmmaker for Festival regulars, and John MacLaverty's 'LOCH NESS: THEY CREATED A MONSTER', which explores the legend of the Loch Ness Monster based on the stories of the local inhabitants and the monster's "hunters".  
In addition, 'DREAM TIME' by Italian director Claudio Lattanzi will also be part of the section, along with five more screening held in the Brigadoon space: 'UN MILLÓN DE ZOMBIES: LA HISTORIA DE PLAGA ZOMBIE' by Nicanor Loreti y Camilo de Cabo, 'THE DARKSIDE OF SOCIETY' by Larry Wade Carrell, 'SHARKSPLOITATION' by Stephen Scarlata, 'OTRA PELÍCULA MALDITA' by Alberto Fasce & Mario Varela and 'MUJERES SIN CENSURA' by Eva Vizcarra. 
Midnight X-Treme: The Section for Night Owls   
The Sitges Film Festival has fans of all kinds, and the Midnight X-Treme section is for those who always want more blood, more guts and more dismemberments. This year the lineup will consist of nine films: 'ALL YOU NEED IS BLOOD', by American director Cooper Roberts, 'KILL' by Indian filmmaker Nikhil Nagesh Bhat, 'MAD CATS' by Japanese director Reiki Tsuno; 'OS REVIENTO' by Spanish director Kike Narcea; 'THE WELL' by Italian director Federico Zampaglione; 'THE WRATH OF BECKY' by American directors Matt Angel and Suzanne Coote, 'TRIGGERED' by Philippine director Richard V. Somas; 'WE ARE ZOMBIES' by the trio of Canadian directors RKS (who will have a double participation at SITGES2023) and 'WINNIE THE POOH: BLOOD AND HONEY', by British director Rhys Frake-Waterfield.
Sitges Strengthens its Love Affair with Series 
In July, we announced almost all the series that you will be able to enjoy at SITGES2023. As a reminder they were the following: the first two chapters of the 2nd season of '30 COINS', the new work by Álex de la Iglesia; the first three episodes of 'EL OTRO LADO', an original Movistar+ series created by Berto Romero and directed by Javier Ruiz Caldera and Alberto de Toro and the first three chapters of 'ROMANCERO', an original Prime Video series directed by Tomás Peña. To them is added a stellar addition: the first two chapters of Carles Porta's new true crime, 'LIGHT IN THE DARK', an original Movistar+ series, will be screened. 
Brigadoon, our other Safe Haven 
One more year, the Brigadoon section, the space for projections and free sessions of the Festival, stands as the meeting point for the cinephilia most in love with the titles and the most uninhibited voices of genre cinema. With a complete selection of shorts, features, videoclips and meetings/tributes with artists always to be claimed, Brigadoon will delight the most restless palates with proposals such as 'THORNS', by Douglas Schulze; 'ALLA RICERCA DEL PIACERE', by Silvio Amadio; 'SHARKSPLOITATION', by Stephen Scarlata or 'SAMURAI NINJA ONIMANJI', by Yoshihiro Nishimura. 
Support for the 56th edition  
Once again this year, the Festival is grateful for the commitment of all the cooperating institutions and companies: Moritz (main sponsor), Cupra (automotive partner), CaixaBank (strategic partner), TV3 (official TV network), La Vanguardia (official newspaper), Catalunya Ràdio (official radio station) and Meliá Sitges (sponsor and official headquarters). 
The Festival confirms its agreements with Aullidos, Cafès Novell, China Madrid, CineAsia, Cineinforme, Cinemania, Cinemascomics, Cinemes Verdi Movie Theaters, Cobega-Coca Cola European Partners,  D.O. Ribera del Duero, Droom, The Red Cross, Dama, Embotits Bundó, ESCAC, El Cinèfil, FNAC, Fotogramas, Fundació Japó, FX Animation, Grup Flaix, Grupo Iguana, Grupo Main, Hong Kong Trade Office, Iberia, IES Joan Ramon Benaprès Escola Hostaleria, Manuel Bundó Marqués S.L., Montaz Media, Nació Digital, Ocimag, Port d'Aiguadolç de Sitges, Reial Cercle Artístic, Renfe, Sensacine, SGAE and Fundació SGAE, TerrorWeekend, The Original Cha-Chá, Tresc, Vertix and Wallbox. 
Sitges 2023 is organized thanks to the participation of the Sitges Town Hall, the Retiro and Casino Prado movie theaters in Sitges, the Catalonian Generalitat's Department of Culture's Institut Català de les Empreses Culturals (Catalan Institute of Cultural Enterprises), and receives financing from the Ministry of Education, Culture and Sports' Instituto de la Cinematografía y de las Artes Audiovisuales (Institute of Cinematography and Audiovisual Arts), the Barcelona Diputació (City Council), the Servei Públic d'Ocupació de Catalunya -Conferència Sectorial d'Ocupació i Afers Laborals (Catalan Public Employment Service - Sectorial Conference for Employment and Labor Affairs), and the Carnet Jove - Departament de Benestar i Família (Department of Welfare and Family). 
CARNET JOVE YOUTH CARD - Once again this year the International Fantastic Film Festival of Catalonia, in collaboration with the Agència Catalana de la Joventut (Catalan Youth Agency), through its Carnet Jove Youth Card, is organizing the XIX Sitges Jurat Carnet Jury. The Jury, made up of five people: Maria Sangalli Borrego, who will be its president, Adrià Cerezo Bertran, Miquel Grau Pahissa, Roger Bach Gómez and Silvia Espín González; has the mission of presenting the Carnet Jove Jury Award to the best film in the Official Fantastic Selection and the Sitges Documenta Award to the best documentary production. The objective of this collaboration is to professionalize film reviewing, giving five young people interested in this field, or in the field of film in general, the opportunity to be part of the official jury at the world's number one fantastic film festival and the cultural event with the most media coverage in Catalonia. 
 The pre-sale of tickets will begin on September 20th at 1:00 p.m., while the official sale will open on the 21st at 1:00 p.m. Here is the list with the complete selection of feature films divided by sections: 
Official Selection (SOFC) 
'ACIDE' - Just Philippot (France) 
'BEST WISHES TO ALL' - Yûta Shimotsu (Japan) 
'CLUB ZERO' - Jessica Hausner (Austria/United Kingdom) 
'CONANN' - Bertrand Mandico (France/Luxembourg/Belgium) 
'CUANDO ACECHA LA MALDAD (WHEN EVIL LURKS)' - Demian Rugna (Argentina) 
'DIVINITY' - Eddie Alcazar (USA) 
'THE ANIMAL KINGDOM' - Thomas Cailley (France) 
'IN FLAMES' - Zarrar Khan (Canada/Pakistan) 
'IT LIVES INSIDE' - Bishal Dutta (USA) 
'KUBI' - Takeshi Kitano (Japan) 
'LA ESPERA' - F. Javier Gutierrez (Spain) 
'LA MORSURE' - Romain de Saint-Blanquat (France) 
'LATE NIGHT WITH THE DEVIL' - Colin Cairnes, Cameron Cairnes (Australia) 
'RED ROOM' - Pascal Plante (Canada) 
'MOSCAS' - Aritz Moreno (Spain/Argentina) 
'OMEN' - Baloji Tshiani (Congo/Netherlands/France/Belgium/Germany/South Africa) 
'RIDDLE OF FIRE' - Weston Razooli (USA) 
'ROBOT DREAMS' - Pablo Berger (Spain/France) 
'KILLING ROMANCE' - Lee Won-suk (South Korea) 
'SALEM' - Jean-Bernard Marlin (France) 
'SLEEP' - Jason Yu (South Korea) 
'SORCERY' - Christopher Murray (Chile/Mexico/Germany) 
'STOPMOTION' - Robert Morgan (USA) 
'THE SEEDING' - Barnaby Clay (USA) 
'THE THEORY OF EVERYTHING' - Timm Kröger (Germany) 
'THERE'S SOMETHING IN THE BARN' - Magnus Martens (Norway) 
'TIGER STRIPES' - Amanda Nell Eu (Malaysia/Taiwan/France/Germany/Netherlands/Indonesia) 
'VERMIN' - Sébastien Vanicek (France) 
'VINCENT DEBE MORIR' - Stéphan Castang (France) 
'WAKE UP' - François Simard, Annouk Whissel, Yoann-Karl Whissel (France) 
'WHITE PLASTIC SKY' - Tibor Bánóczki, Sarolta Szabó (Hungary/Slovakia) 
Official Selection – Special Screenings 
'ALIENS ABDUCTED MY PARENTS AND NOW I FEEL KINDA LEFT OUT' - Jake Van Wagoner (USA) 
'AMELIA'S CHILDREN' - Gabriel Abrantes (Portugal) 
'AWARENESS' - Daniel Benmayor (USA/Spain) 
'BLOOD' - Brad Anderson (USA) 
'THE BOY AND THE HERON' - Hayao Miyazaki (Japan) 
'LA ERMITA' - Carlota Pereda (Spain)
'SOCIETY OF THE SNOW' - J.A. Bayona (Spain) 
'POOR THINGS' - Yorgos Lanthimos (United Kingdom) 
'SISTER DEATH' - Paco Plaza (Spain)
'THE TOXIC AVENGER' - Macon Blair (USA) 
'UFO SWEDEN' - Crazy Pictures (Sweden) 
Official Fantastic - Midnight Special 
'GOD IS A BULLET - Nick Cassavetes (USA) 
'THE DEEP DARK' - Mathieu Turi (France) 
Òrbita 
'BLACK FLIES' - Jean-Stéphane Sauvaire (USA) 
'CONCRETE UTOPIA' - Um Tae-Hwa (South Korea) 
'DIABOLIK: GINKO ALL'ATTACCO' - Marco Manetti, Antonio Manetti (Italy) 
'THE ROUNDUP: NO WAY OUT' - Lee Sang-yong (South Korea) 
'JACKDAW' - Jamie Childs (United Kingdom) 
'JERICHO RIDGE – Will Gilbey (Kosovo/United Kingdom/Northern Ireland) 
'LA EXTORSIÓN' - Martino Zaidelis (Argentina) 
'LOS OJOS DE LA NOCHE' - Ahn Tae-jin (South Korea) 
'LUMBERJACK THE MONSTER' - Takashi Miike (Japan) 
'MAD FATE' - Soi Cheang (Hong Kong) 
'NIGHT OF THE HUNTED' - Franck Khalfoun (France) 
'PROPERTY' - Daniel Bandeira (Brazil) 
'SMUGGLERS' - Ryoo Seung-wang (South Korea) 
'THE CHILDE' - Park Hoon-jung (South Korea) 
'THE LAST STOP IN YUMA COUNTY' - Francis Galluppi (USA) 
'WHERE THE WIND BLOWS' - Philip Yung (China/Hong Kong) 
Panorama 
'#MANHOLE' - Kazuyoshi Kumakiri (Japan) 
'APPENDAGE' - Anna Zlokovic (USA) 
'BLACKOUT' - Larry Fessenden (USA) 
'BROOKLYN 45' - Ted Geoghegan (USA) 
'GODLESS: THE EASTFLIED EXORCISM' - Nick Kozakis (Australia) 
'HOOD WITCH' - Saïd Belktibia (France) 
'LAST STRAW' - Alan Scott Neal (USA) 
'LET IT GHOST' - Hoi Wong (Hong Kong) 
'NINA DEI LUPI' - Antonio Pisu (Italy) 
'ONYX THE FORTUITOUS AND THE LALISMAN OF SOULS' - Andrew Bowser (USA) 
'PROJECT SILENCE' - Kim Tae-gon (South Korea) 
'RABIA' - Jorge Michel Grau (Mexico) 
'RESTORE POINT' - Robert Hloz (República Checa) 
'SUPERPOSITION' - Karoline Lyngbye (Denmark) 
'THE FORBIDDEN PLAY' - Hideo Nakata (Japan) 
'THE SACRIFICE GAME' - Jenn Wexler (Canada/USA) 
'YOU'LL NEVER FIND ME' - Josiah Allen, Indianna Bell, Josiah Allen (Australia) 
Panorama – Out of Competition 
'CUANDO LOS AMOS DUERMEN' - Santiago Alvarado (Spain) 
'IMMERSION' - Takashi Shimizu (Japan) 
'THE PRIMEVALS' - David Allen (USA) 
'TOKYO REVENGERS 2: PART I' - Tsutomu Hanabusa (Japan) 
'TOKYO REVENGERS 2: PART II' - Tsutomu Hanabusa (Japan) 
Anima't 
'DEEP SEA' - Tianxiao Peng (China) 
'FOUR SOULS OF COYOTE' - Áron Gauder (Hungary) 
'HEAVIES TENDRES' - Joan Tomàs, Carlos Pérez-Reche, Juanjo Sáez (Spain) 
'KOMADA - A WHISKY FAMILY' - Masayuki Yoshihara (Japan) 
'LONELY CASTLE IN THE MIRROR' - Keiichi Hara, Takakazu Nagamoto, Keiichi Hara (Japan) 
'MARS EXPRESS' - Jéremie Perin (France) 
'ROBOT DREAMS' - Pablo Berger (Spain/France) 
'SAND LAND' - Toshihisha Yokoshima (Japan) 
'TONY, SHELLY AND THE MAGIC LIGHT' - Filip Posivac (República Checa/Hungary/Slovakia) 
'WHITE PLASTIC SKY' - Tibor Bánóczki, Sarolta Szabó (Hungary/Slovakia) 
Anima't - Special Screenings 
'PHOENIX: REMINISCENCE OF FLOWER' - Shojiro Nishimi (Japan) 
'THE FEAST OF AMRITA' - Saku Sakamoto (Japan) 
Anima't - Sitges Classics 
'LES MAÎTRES DU TEMPS' (4K) - René Laloux (France/Hungary/Suiza) 
'THE SOLDIER'S TALE' - R. O. Blechman (USA) 
'100 YEARS OF WALT DISNEY ANIMATION STUDIOS: AN HOMMAGE TO ITS SHORT FILMS' - Various authors (USA) 
Sitges Classics 
'ACCIÓN MUTANTE' - Álex de la Iglesia (Spain) 
'ANGUSTIA DEL SILENCIO' - Lucio Fulci (Italy) 
'CALÍGULA - THE ULTIMATE CUT' (4K) - N/A (United States/Italy) 
'ENTER THE GAME OF DEATH' - Joseph Velasco (Hong Kong) 
'THE RAID' - Gareth Evans (Indonesia) 
'LOS NUEVOS EXTRATERRESTRES' (4K) - Juan Piquer Simón (Spain) 
'THE SHINING' (4K) - Stanley Kubrick (USA) 
'THE EXORCIST' (4K) - William Friedkin (USA) 
'LAKE MICHIGAN MONSTER' - Ryland Brickson Cole Tews (USA) 
'PSYCHIC VISION: JAGANREI' - Teruyoshi Ishii (Japan) 
'KING KONG' (1933) - Merian C. Cooper, Ernest B. Schoedsack (USA) 
'EL HOMBRE DE MIMBRE' (THE WICKER MAN) (4K) - Robin Hardy (UK/Northern Ireland) 
'LA MÁSCARA DEL DEMONIO' - Lamberto Bava (Italy) 
'DRAGON LIVES AGAIN' - Chi Chih Lo (Hong Kong) 
'MUNDO CANÍBAL, MUNDO SALVAJE' - Ruggero Deodato (Italy) 
'SIESTA' - Mary Lambert (USA) 
'STAR TREK: THE MOTION PICTURE - THE DIRECTOR'S EDITION' - Robert Wise (USA) 
Noves Visions 
'CONTEMPT' (4K) - Jean-Luc Godard (France/Italy) (Special Screening) 
'EMBRYO LARVA BUTTERFLY' - Kyros Papavassiliou (Grecia/Chipre) 
'EN ATTENDANT LA NUIT' - Céline Rouzet (France) 
'HALFWAY HOME' - Madarász Isti (Hungary) 
'HUMANIST VAMPIRE SEEKS CONSENTING SUICIDAL PERSON' - Ariane Louis-Seize (Canada) 
'HUNDREDS OF BEAVERS' - Mike Cheslik (USA) 
'IN MY MOTHER'S SKIN' - Kenneth Dagatan (Philippines/Singapore/Taiwan) 
'LA ÚLTIMA NOCHE DE SANDRA M.' - Borja de la Vega (Spain) 
'LUKA' - Jessica Woodworth (Belgium/Italy/Netherlands/Bulgaria/Armenia) 
'MIMÌ - PRINCE OF DARKNESS' - Brando de Sica (Italy) 
'MONDAYS: SEE YOU "THIS" WEEK!' - Ryo Takebayashi (Japan) 
'MONOLITH' - Matt Vesely (Australia) 
'MOON GARDEN' - Ryan Stevens Harris (USA) 
'MOTEL MELATI' - Mike Wiluan, Billy Christian (Indonesia, Singapore) 
'MY ANIMAL' - Jacqueline Castel (Canada) 
'PANDEMONIUM' - Quarxx (France) 
'RAGING GRACE' - Paris Zarcilla (United Kingdom/Northern Ireland) 
'RIVER' - Junta Yamaguchi (Japan) 
'TELA DE ARAÑA (COBWEB)' - Kim Jee-won (South Korea) 
'THE FUNERAL' - Orçun Behram (Turquía) 
'THE INVISIBLE FIGHT' - Rainer Sarnet (Estonia/Lituania/Grecia/Finlandia) 
'THE LAST ASHES' - Loïc Tanson (Luxembourg/Belgium) 
'THE UNCLE' - David Kapac, Andrija Mardesic (Serbia/Croatia) 
'THE VOURDALAK' - Adrien Beau (France) 
'WHERE THE DEVIL ROAMS' - Zelda Adams, John Adams, Toby Poser (USA) 
Sitges Documenta 
'A DISTURBANCE IN THE FORCE' - Jeremy Coon, Steve Kozak (USA) 
'DARIO ARGENTO PANICO' (4K) - Simone Scafidi (United Kingdom/Northern Ireland) 
'DREAM TIME' - Claudio Lattanzi (Italy) 
'ENTER THE CLONES OF BRUCE' - David Gregory (USA) 
'KAIDAN. STRANGE STORIES OF JAPANESE GHOSTS' - Yves Montmayeur (France) 
'KIM'S VIDEO' (4K) - David Redmon, Ashley Sabin (USA) 
'LIVING WITH CHUCKY' - Kyra Elise Gardner (USA) 
'LOCH NESS: THEY CREATED A MONSTER' - John MacLaverty (United Kingdom) 
'MUJERES SIN CENSURA' - Eva Vizcarra (Spain) 
'OTRA PELÍCULA MALDITA' - Alberto Fasce & Mario Varela (Argentina) 
'THE HISTORY OF METAL AND HORROR' - Mike Schiff (USA) 
'SATAN WANTS YOU' - Sean Horlor, Steve J. Adams, Sean Horlor (Canada) 
'SHARKSPLOITATION' - Stephen Scarlata (USA) 
'SPOOKTACULAR!' - Quinn Monahan (USA) 
'THE DARK SIDE OF SOCIETY' - Larry Wade Carrell (USA) 
'THE J-HORROR VIRUS' - Sarah Appleton, Jasper Sharp (Japan, United Kingdom) 
'UN MILLÓN DE ZOMBIES: LA HISTORIA DE PLAGA ZOMBIE' - Nicanor Loreti, Camilo de Cabo (Argentina) 
'YOU CAN CALL ME BILL' - Alexandre O. Philippe (USA) 
Retrospectiva - Ciudad Pánico 
'AMENAZA EN LA SOMBRA' - Nicolas Roeg (United Kingdom) 
'HOLLYWOOD 90028' (4K) - Christina Hornisher (USA) 
'PÁJAROS DE CIUDAD' - Jose María Sánchez Álvaro (Spain/Italy) 
'EL ALMUERZO DESNUDO' (4K) - David Cronenberg (Canada/United Kingdom) 
'LA CASA SIN FRONTERAS' - Pedro Olea (Spain) 
'GOD TOLD ME TO' - Larry Cohen (USA) 
'LOS ÚLTIMOS DÍAS' - Àlex Pastor, David Pastor (Spain)  
Midnight X-Treme 
'ALL YOU NEED IS BLOOD' - Cooper Roberts (USA) 
'KILL' - Nikhil Nagest Bhat (India) 
'MAD CATS' - Reiki Tsuno (Japan) 
'OS REVIENTO' - Kike Narcea (Spain) 
'THE WELL' - Federico Zampaglione (Italy) 
'THE WRATH OF BECKY' - Matt Angel, Suzanne Coote (USA) 
'TRIGGERED' - Richard V. Somes (Philippines) 
'WE ARE ZOMBIES'- François Simard, Anouk Whissell, Yoann-Karl Whissell (Canada) 
'WINNIE THE POOH: MIEL Y SANGRE' - Rhys Frake-Waterfield (United Kingdom) 
Brigadoon - Feature Film Premieres
'AUXILIO' - Tamae Garateguy (Argentina) 
'THORNS' - Douglas Schulze (USA) 
'MARIA' - Gabriel Grieco & Nicanor Loreti (Argentina) 
'THE BARN PART II' - Justin M. Seaman (USA) 
Brigadoon - Documentaries 
'OTRA PELÍCULA MALDITA' - Alberto Fasce, Mario Varela (Argentina) 
'UN MILLÓN DE ZOMBIES: LA HISTORIA DE PLAGA ZOMBIE' - Nicanor Loretti, Camilo de Cabo (Argentina) 
'SHARKSPLOITATION' - Stephen Scarlata (USA) 
'MUJERES SIN CENSURA' - Eva Vizcarra (Spain) 
'MANCUNIAN MAN: THE LEGENDARY LIFE OF CLIFF TWEMLOW' - Jake West (United Kingdom)
'THE DARKSIDE OF SOCIETY' - Larry Wade Carrell (USA) 
'IL MUSEO DEGLI ORRORI DI DARIO ARGENTO' - Luigi Cozzi (Italy) 
Brigadoon - Nosferatu Award Barbara Bouchet
'LA DAMA ROJA MATA SIETE VECES' - Emilio P. Miraglia (Italy) 
'ALLA RICERCA DEL PIACERE' - Silvio Amadio (Italy) 
'MILÁN CALIBRE 9 (MILANO CALIBRO 9)' - Fernando di Leo (Italy) 
'LA TARÁNTULA DEL VIENTRE NEGRO' - Paolo Cavara (Italy) 
Brigadoon - Special Screenings
'IL BOSS' - Fernando Di Leo (Italy) 
'ALGUIEN TE ESTÁ MIRANDO' - Gustavo Cova, Horacio Maldonado (Argentina) 
'PLAGA ZOMBIE' - Pablo Parés, Hernán Sáez (Argentina) 
'MONSTER HEAVEN: GHOST HERO' - Makoto Tezuka (Japan) 
'CUT AND RUN' - Ruggero Deodato (Italy) 
'TAKE A HARD RIDE (POR LA SENDA MÁS DURA)' - Antonio Margheriti (Italy) 
'MARIA'S STOMACH' - Hideyuki Hirayama (Japan) 
'LOS INVASORES DEL ABISMO' - Ruggero Deodato (Italy) 
'TINTORERA' - René Cardona Jr (Mexico) 
'SAMURAI NINJA ONIMANJI' - Yoshihiro Nishimura (Japan)
'TIBURÓN 3 - L'ULTIMO SQUALO' - Enzo G. Castellari (Italy) 
'DOOR' - Benmei Takahashi (Japan) 
'HALL OF FRAME. MARÍA LUISA PINO' - Guillermo López Aliaga & Fran Mateu (Spain)
'THE RELUCTANT ICON: A TRIBUTE TO LAURA GEMSER' - Kier-La Janisse (USA, Canada) 
'BLOOD SUCKING TREE' - Shunji Iwai, Masaharu Ota & Akira Yoneta (Japan) 
'EL PANTANO DE LOS CUERVOS' - Manuel Caño (Spain) 
'LA VENGANZA DE LA MOMIA' - Carlos Aured (Spain) 
'OLDBOY' - Park Chan-Wook (South Korea) 
'SANTO CONTRA LOS ZOMBIES' - Benito Alazraki (Mexico) 
'HUMANOID PUPPET' - Hidehiro Ito (Japan)