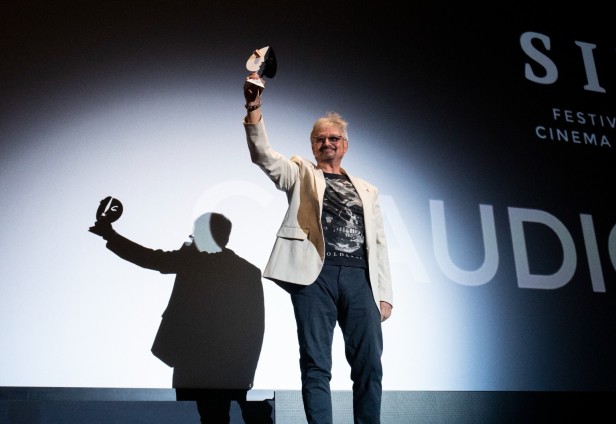 'Piggy' and Claudio Simonetti, Big Winners at the Méliès d'Or Awards Gala
'From Beyond' picks up the award for best short film
For the fifth year in a row, the Sitges - International Fantastic Film Festival of Catalonia hosted the Méliès d'Or Awards ceremony, presented annually by the Méliès International Festivals Federation, in recognition of the best European feature length film and short film.
This year, the award for best feature film went to Piggy, the feminist slasher that is Carlota Pereda's feature directorial debut. As for the best short film, the award went to From Beyond, an experimental and daring short film directed by Fredrick S. Hana. And so, the jury composed of film critics Alberto Lechuga, Víctor López and Marla Jacarilla, acknowledged both the virtuosity of the reimagining of slasher movies from a more classical perspective and the interplay with the codes of science fiction with a formalist intention.
Meanwhile, this year's Méliès Career Award, which pays tribute to the lifetime achievement of a prominent figure in the industry, went to Claudio Simonetti, the Italian composer whose collaboration with Dario Argento in the 1970s produced some of the most unforgettable melodies in the Italian giallo genre. As the leader of the progressive rock band Goblin, Simonetti is the architect of such emblematic themes as the celesta notes and bells of the main theme of Suspiria or the synthesizer on the Deep Red soundtrack.
The awards are presented by the Méliès International Festivals Federation, a network of 25 film festivals in 19 different countries, with a worldwide influx of more than 800,000 visitors, which is why it is a vital economic and cultural force within the fantastic genre film scene.
Its mission is to promote European fantastic genre film productions in Europe and throughout the world, improving their visibility and positioning among audiences and within the industry, while encouraging their circulation. The Federation works to fulfill this mission through its network of festivals in Europe, its supporting members in Asia, North America and South America, as well as the Méliès Awards for excellence in European genre films.
The presentation of the awards took place before the screening of Ego, a particular Finnish horror drama by Hanna Bergholm, whose premiere took place at three o'clock in the afternoon at the Melià Sitges Auditori.