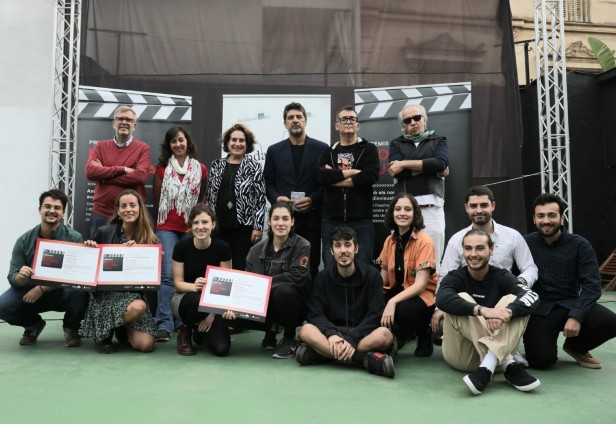 Students from La Casa del Cine and Escola de Disseny i Arts Visuals LCI Barcelona, winners of the SGAE Nova Autoria 2022 Awards
The SGAE Foundation's awards go to the best direction, best screenplay and best original music by auteurs from universities and film schools around Catalonia
Today, at the Prado Theater, was the screening of the 13 finalist works from the SGAE Nova Autoria Awards, which have reached their 22nd year as part of, and with the support and collaboration of, the Sitges - International Fantastic Film Festival of Catalonia. Cesc Gay, director, screenwriter and playwright; Marta Grau, screenwriter, writer and script editor, and Alfonso de Vilallonga, film composer, vocalist and singer-songwriter, were the members of the jury.
Organized by the Sociedad General de Autores y Editores (SGAE) and the SGAE Foundation, through the SGAE's Territorial Council in Catalonia, the awards are part of the Film Festival's Noves Visions section, with the participation of 15 film schools from around Catalonia, which presented a total of 32 audiovisual works.
Ariadna Pastor, director and writer of the short film Tornar a casa, presented by La Casa del Cine, won the SGAE Nova Autoría Award for Best Direction-Production and the Award for Best Screenplay. According to the jury, the award for best direction was "for having managed to describe the emotions and the inner conflict of a girl facing the separation of her parents with sensitivity, humor and tenderness", and for best screenplay "for the subtlety with which it addresses a dramatic conflict very common in today's society; for the sensitivity with which it describes the characters and their emotions without succumbing to drama or explicit dialogues, and for the work done with everyday objects, which become poetic images of great cinematic value".  This short film can be seen before the screening of L'année du requin on Saturday, October 15th at the Tramuntana theater.
The SGAE Nova Autoría Award for Best Original Music went to Valentín Cremona, composer for the short film Sweet Side, presented by the Escola de Disseny i Arts Visuals LCI Barcelona. According to the jury, he deserved the award "for accompanying this story and its characters with music that is appropriate, simple and effective to the utmost, and for doing so without redundancy or underlining anything at any time, finding the necessary balance between discretion and active presence". This work will precede the screening of Inu-oh on Saturday the 15th at 4:45 pm at the Tramuntana theater.
Lluís Gómez, Director of the SGAE in Catalonia and the Balearic Islands; Àngel Sala, Director of the Sitges Film Festival, and Aurora Carbonell, Mayor of the town, attended the verdict reading ceremony along with the members of the jury.
The SGAE Nova Autoria Awards are supported by and in collaboration with the Sitges Film Festival and the main Catalan film schools. With these awards, the SGAE and the SGAE Foundation offer emerging authors the chance to exhibit their work and make it known to the general public within the framework of an audiovisual event with international impact.