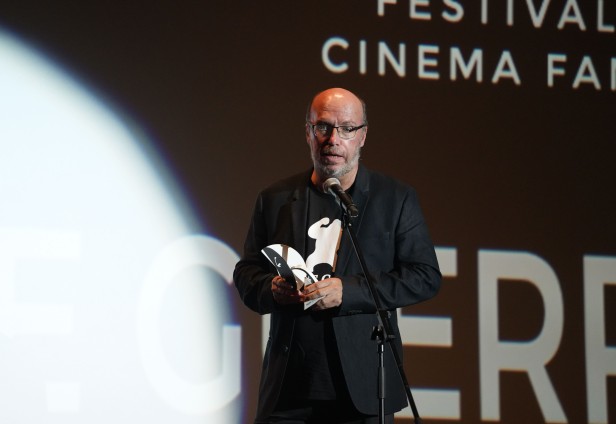 LOLA and Jorge Guerricaechevarría, Stars of the Méliès d'Or Awards Gala
For the sixth consecutive year, the SITGES - International Fantastic Film Festival of Catalonia hosted the ceremony to present the Méliès d'Or Awards, granted annually by the Méliès International Festivals Federation in recognition of the best European feature film and short film. 
This year, the award for best feature film went to 'LOLA' by Irish director Andrew Legge, a low-budget fable that explores time travel in a very intelligent way. Meanwhile, the winner of the award for best short film was 'Gnomes' by Ruwan Suresh Heggelman, a blend of brutal and adorable horror, starring a gnome with murderous intentions. The jury formed by Francesc Miró, Antoni Peris and Ylenia Cañadas acknowledged the originality and innovation of the two proposals, as well as the risk and reimagining of very common themes in genre filmmaking. 
This year's Career Méliès, which acknowledges the lifetime achievement of an outstanding industry name, went to Jorge Guerricaechevarría, Spanish screenwriter who has collaborated on important films including 'Mutant Action', 'The Day of the Beast', 'Cell 211' (which earned him the Goya Award for Best Adapted Screenplay) or more recently 'The Laws of the Border' (which earned him his second Goya). In short, it's impossible to understand Spanish genre filmmaking over the last 35 years without the presence of Guerricaechevarría. 
These awards are presented by the Méliès International Festivals Federation, a network of 29 film festivals in 21 different countries, with a worldwide audience of more than 900,000 visitors, which is why it is a vital economic and cultural force within the fantastic genre film landscape. 
The awards aim to promote European fantastic genre film productions worldwide, improving their visibility and positioning both among audiences and within the industry, while fostering their circulation.  
The awards ceremony took place before the screening of 'THE ANIMAL KINGDOM', an ambitious and daring film that navigates between science fiction, drama and adventure movie that marveled the latest edition of the Cannes Film Festival.