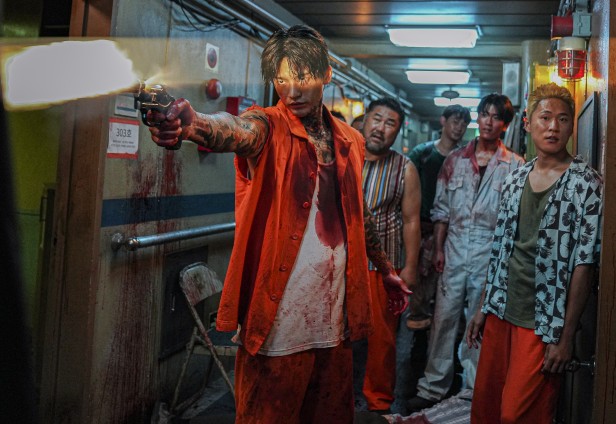 Sitges 2022: More Asian, more horror, more documentaries
Korean thrillers, Japanese anime, Joe Begos and Jason Eisener's new films, or the documentary on the impact of '[REC]' are added to the world's biggest fantastic film event
The 55th Sitges Film Festival is approaching the speed of TRON's computer circuits and now presents a new lineup preview. Action and animation from the Asian continent; long-awaited new releases from horror directors who are already cult figures, and the season's best documentaries can be seen from October 6th to 16th at the world's number one fantastic genre film festival.
Arriving all the way from South Korea are three titles that are a true celebration of genre. Jeong Woo-seong's A Man of Reason, a polar-style thriller; Kim Hong-sun's Project Wolf Hunting, with generous portions of adrenaline and violence, and Choi Dong-hoon's Alienoid, blending science fiction and martial arts with androids.
As always, Japanese anime will play an important role at the Festival. Dozens of Norths, Koji Yamamura's visually fascinating production; Yasuhiro Yoshiura's animated musical, Sing a Bit of Harmony, and Masaki Tachibana's Blue Thermal, about a university aviation club. And landing at the Festival direct from Indonesia will be the supernatural horror of Satan's Slaves: Communion, the sequel to Satan's Slaves presented by Joko Anwan, also the director of the terrifying Impetigore.
Sitges 2022 will feature the latest releases from filmmakers who have already become genre cult figures. Canada's Jason Eisener (Hobo With a Shotgun) will be bringing the nostalgic spirit of the 80's with Kids vs. Aliens; and we will also be able to enjoy Joe Begos' (Bliss) new gore extravaganza, Christmas Bloody Christmas, and Mexico's Isaac Ezban (The Incident) will be returning to Sitges with Mal de ojo, packed full of horror and witchcraft.
This year's fantastic crop is extensive and top level, and Sitges will be programming many of the films most eagerly awaited by fans, including Deadstream, a geek horror satire directed by Joseph Winter and Vanessa Winter; Fall, the 2000 feet high survival thriller directed by Scott Mann; Chloe Okuno's clever and unsettling psychological thriller Watcher; Simon Rieth's mysterious and secret-filled Nos cérémonies, and Jim Archer's comedy about the creation of artificial life Brian and Charles.
Two new Spanish film confirmations are joining the Festival's lineup. The second season of Historias para no dormir, the reboot of the Spanish series created by Chicho Ibáñez Serrador, will see the light in Sitges. The new episodes are directed by Alice Waddington (La pesadilla), Jaume Balagueró (El televisor), Nacho Vigalondo (La alarma) and Salvador Calvo (El trasplante), and once again feature an all-star cast. In 2007, Jaume Balagueró and Paco Plaza's [REC] marked a before and after in horror filmmaking. Now, fifteen years later, the main players analyze the keys to this movie in the documentary [REC] Terror sin pausa, directed by Diego López-Fernández.
Also joining the documentary arena are Roger Lay Jr.'s 1982: Greatest Geek Year Ever, which takes a journey through the pop culture hits of 1982, its movies, television, music and video games, and Víctor Matellano's El valle del Concavenator, about the dinosaur species found in Cuenca (Spain).