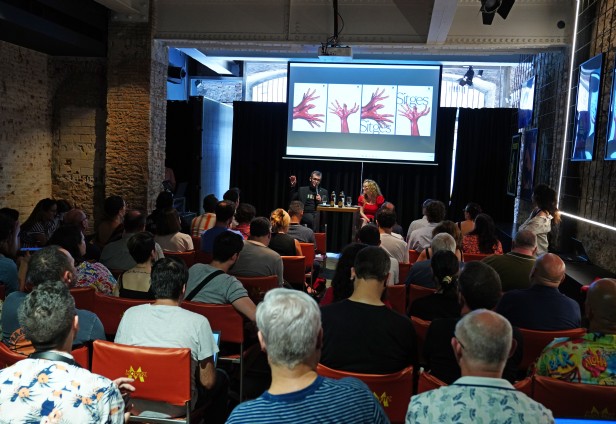 Sitges 2023 Selects the Best in National and International Fantastic Genre
The 56th edition of the SITGES - International Fantastic Film Festival of Catalonia, to be held from October 5th to the 15th, is starting to take shape with an initial preview of its lineup, featuring outstanding names including Pablo Berger, Carlota Pereda, Álex de la Iglesia, Jessica Hausner, Bertrand Mandico, Lee Unkrich and Mary Lambert
At the Fàbrica Moritz in Barcelona, Ángel Sala and Mònica Garcia i Massagué, the Festival's Artistic Director and the Foundation's Director respectively, offered a first preview of the lineup for the 56th edition of this benchmark fantastic film competition.
The Multiplied Image
This preview was preceded by the presentation of the new versions of the 2023 poster that, once again this year, has been created by the team at CHINA. In the same line of the striking image unveiled at the recent Cannes Film Festival, the focus on blood has been maintained and even reinforced; with an intense red that impregnates a pair of hands reminiscent of the menacing flight of Alfred Hitchcock's 'The Birds'... and at the same time takes us back to the recollection of countless films and creatures that have also been the protagonists of some of our most unforgettable dreams; some of our most traumatizing nightmares.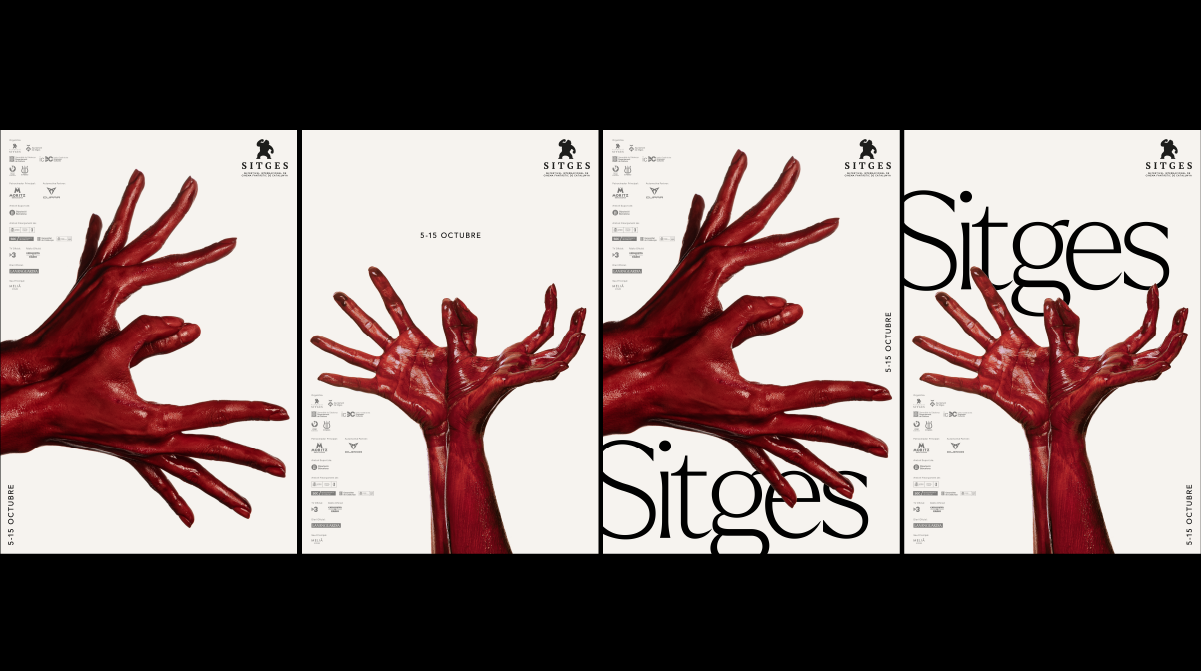 There's No Place Like Home
Needless to say, the participation of both Catalan and Spanish productions will play a key role during this 56th edition of the Festival. In addition to Paco Plaza's previously announced return home (in order to present 'SISTER DEATH', our opening film), SITGES2023 will also feature the presence of highly acclaimed and impacting names like Pablo Berger, Carlota Pereda and Álex de la Iglesia.
The first will be presenting 'ROBOT DREAMS', a spectacular animated science-fiction film that has already caused a major sensation both at its official premiere at Cannes and its confirmation at Annecy, the Mecca of animated movies, where it won the Award for Best Film in the Contrechamp Section. Meanwhile, the director of 'Piggy' will present 'LA ERMITA', a supernatural horror film starring Belén Rueda, which should serve to further elevate a woman who, last year, was clearly discovered to be one of the great revelations in genre moviemaking.
In series format, we will be welcoming the eagerly awaited 2nd season of HBO Original '30 COINS', the new entry from maestro Álex de la Iglesia; a deliciously diabolical aftermath of the epic battle between Father Vergara and Cardinal Santoro, with one of the most impressive casts we'll see this year, starring Eduard Fernández, Megan Montaner, Miguel Ángel Silvestre, Macarena Gómez, Najwa Nimri and Paul Giamatti. We will also reveal the paranormal events of 'EL OTRO LADO', the original MOVISTAR Plus+ series produced in collaboration with El Terrat (The Mediapro Studio) and created by Berto Romero, directed by Javier Ruiz Caldera and Alberto de Toro. Berto Romero, Andreu Buenafuente, Eva Ugarte, María Botto and Nacho Vigalondo will show us the comical side of poltergeists. In the series section, we will also have the presentation of 'ROMANCERO', a Prime Video original in the form of a supernatural Andalusian thriller, directed by Tomás Peña, written by Fernando Navarro and starring Sacha Cócola, Elena Matic, Alba Flores, Belén Cuesta, Ricardo Gómez and Guillermo Toledo. Finally, and returning to the feature film format, we will be welcoming F. Javier Gutiérrez, five years after his previous film, to discover 'LA ESPERA', a twisted three-way intrigue (between Víctor Clavijo, Ruth Díaz and Manuel Morón) that will mark the return of this Andalusian filmmaker to his homeland.
Our French Connections
Crossing the border, the Festival's 56th edition will also be an opportunity to verify the excellent state of health that French fantastique is currently enjoying. Based on a fruitful production from the recent Cannes Film Festival, we will be able to see 'ACID', directed by Just Philippot (a huge sensation at Sitges2020 thanks to 'The Swarm', his surprising debut feature), a film where the angst for survival emanates from the eco-anxiety of a world battered by a vengeful nature.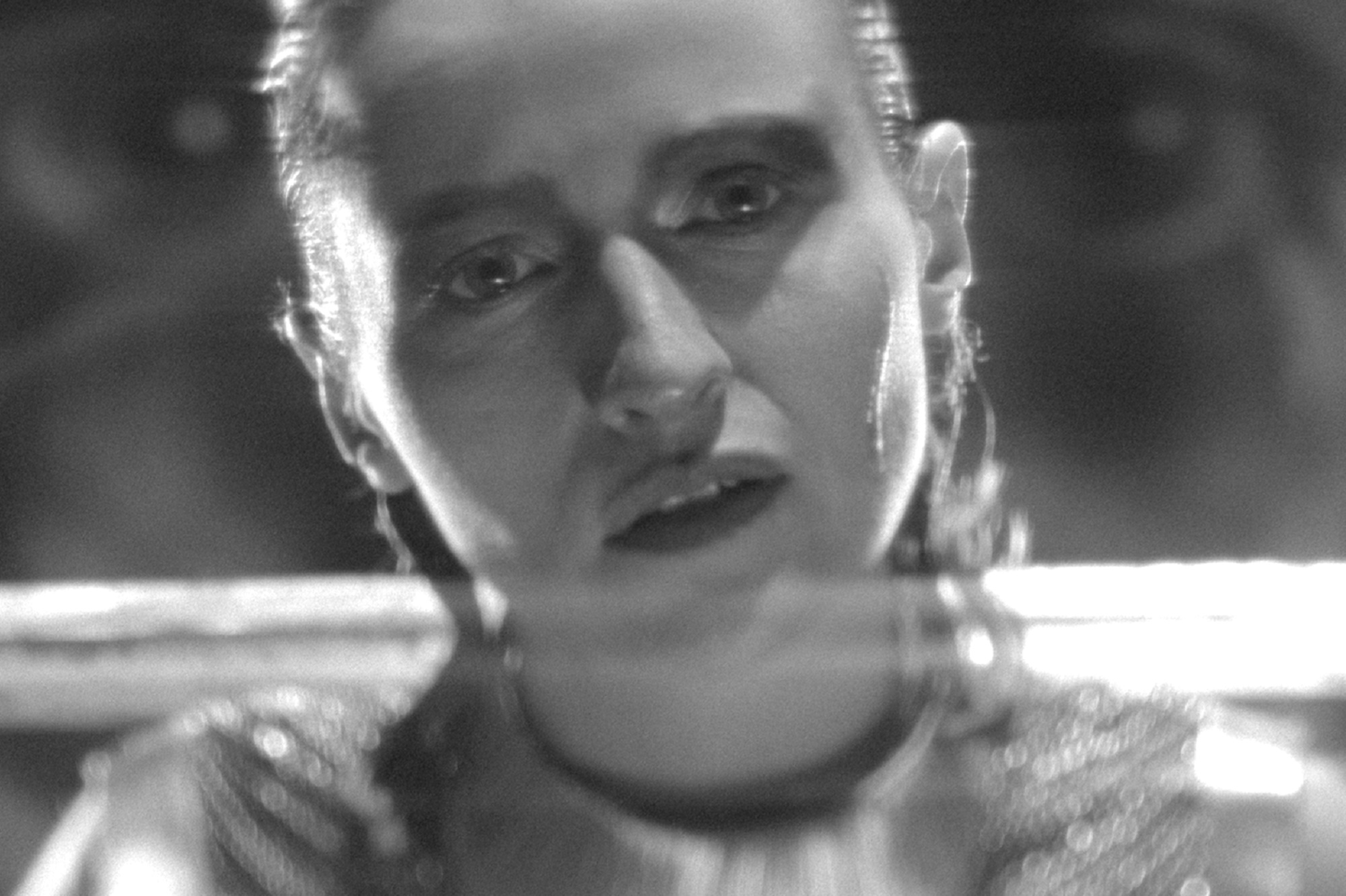 In an equally disconcerting (and desperate) scenario, where some human beings have mutated into animals, we will be immersed in Thomas Cailey's new project, 'THE ANIMAL KINGDOM', starring Adèle Exarchopoulos and Romain Duris. Meanwhile, Bertrand Mandico will have the chance to consolidate himself as one of the new icons of Sitges' ecosystem, thanks to 'CONANN', one of this year's freest, most barbaric and, as a result, most mind-blowing films. Finally, Sébastien Vanicek will trigger our arachnophobia with 'VERMIN', and Stéphan Castang will stun us with 'VINCENT MUST DIE', about the agonizing drama of a man (played by a brilliant Karim Leklou) who, when he wakes up one day, discovers that a horde of unknown people want to kill him..
All Around (the World)
But Sitges, as we all know, is also the ideal place to take a peek at emergent filmmaking; at those voices whose daring allows us to discover new ways of relating to the world. This is the case with the Malaysian 'TIGER STRIPES', directed by Amanda Nell Eu, a big surprise at Cannes... that we already caught a glimpse of during the 2018 edition of Sitges Fanpitch. But there will also be time for much more: arriving from Pakistan will be Zarrar Kahn's 'IN FLAMES'; rapper Baloji will take us to the Congo of his origins in 'OMEN'; Kenneth Lim Dagatan will blend folk horror with the brutality of World War II in the Philippines in 'IN MY MOTHER'S SKIN'; and Bishal Dutta will build (and shake up) bridges between the United States and India in 'IT LIVES INSIDE'.
Other films that are setting trends this year in fantastic genre will also be landing in Sitges. This is the case with Cameron and Colin Cairnes' 'LATE NIGHT WITH THE DEVIL', Jason Yu's 'SLEEP', Weston Razooli's 'RIDDLE OF FIRE', Christopher Murray's 'SORCERY', Demián Rugna's 'WHEN EVIL LURKS', or 'CLUB ZERO', starring Mia Wasikowska, the new and controversial feature from Jessica Hausner, one of the most consolidated talents in European cinema.
We will also be able to see Quarxx's 'PANDEMONIUM', Matt Vesely's 'MONOLITH', David Kapac and Andrija Mardešić's 'THE UNCLE', John Adams, Zelda Adams and Toby Poser's 'WHERE THE DEVIL ROAMS', Ryan Stevens Harris' 'MOON GARDEN', Ted Geoghegan's 'BROOKLYN 45', Joe Lynch's 'SUITABLE FLESH' or Lee Sang-yong's 'THE ROUNDUP: NO WAY OUT', with the captivating charisma of Ma Dong-seok.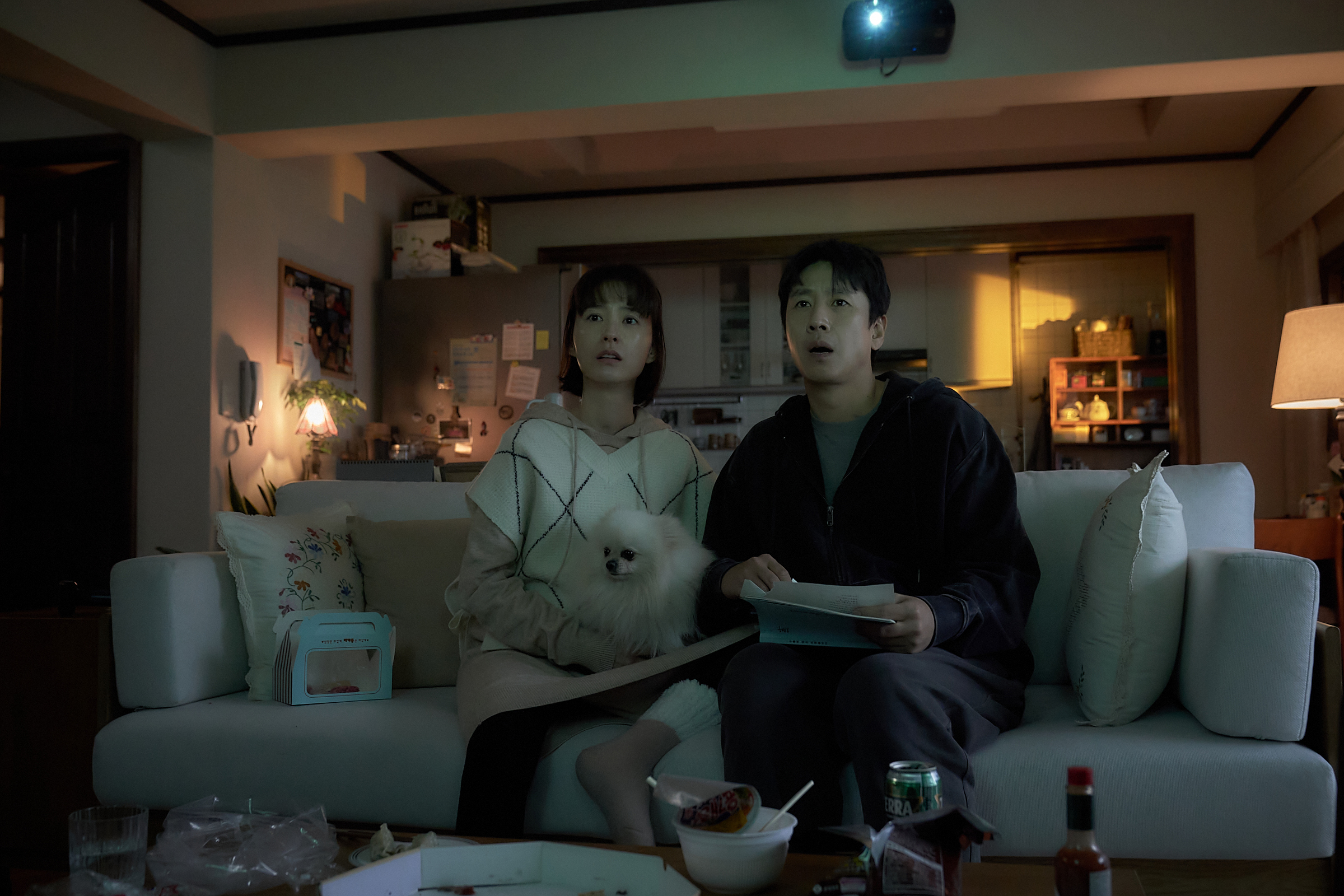 And naturally, animation and documentaries will have an outstanding representation with entries including Tian Xiao Peng's 'DEEP SEA,' Áron Gauder's 'FOUR SOULS OF COYOTE,'; Robert Morgan's 'STOPMOTION and Eddie Alcazar's 'DIVINITY' (produced by Steven Soderbergh) will surprise us with a bunch of sensational animated scenes. In non-fiction, we will see David Gregory's 'ENTER THE CLONES OF BRUCE', Jeremy Coon and Steve Kozak's 'A DISTURBANCE IN THE FORCE', Sarah Appleton and Jasper Sharp's 'THE J-HORROR VIRUS' or Yves Montmayeur's ' KAIDAN. STRANGE STORIES OF JAPANESE GHOSTS', these last two, dedicated to the tireless attraction that Japanese terror holds for us.
As for the classics, we will once again be focusing on Álex de la Iglesia's work with the 30th anniversary of 'MUTANT ACTION', his legendary debut feature film, and with Tinto Brass' eternal controversy in 'CALIGULA: THE ULTIMATE CUT'.
Stellar Appearances
Two-time Academy Award winner LEE UNKRICH, a fundamental pillar of the Pixar factory's golden age, thanks to movies like 'Monsters, Inc.', 'Finding Nemo', 'Coco' or the second and third installments of the 'Toy Story' franchise, will be coming to Sitges... but not for any of these outstanding achievements. We will be welcoming the legendary American director and editor to see him unravel the maze-like intricacies of one of his lifelong obsessions: 'The Shining', by Stanley Kubrick, an inexhaustible cult object, that masterpiece we thought we already knew everything about but that, in an incredible book written by Unkrich and edited by Taschen, will prove that there are still countless mysteries to continue haunting the corridors of the Overlook Hotel.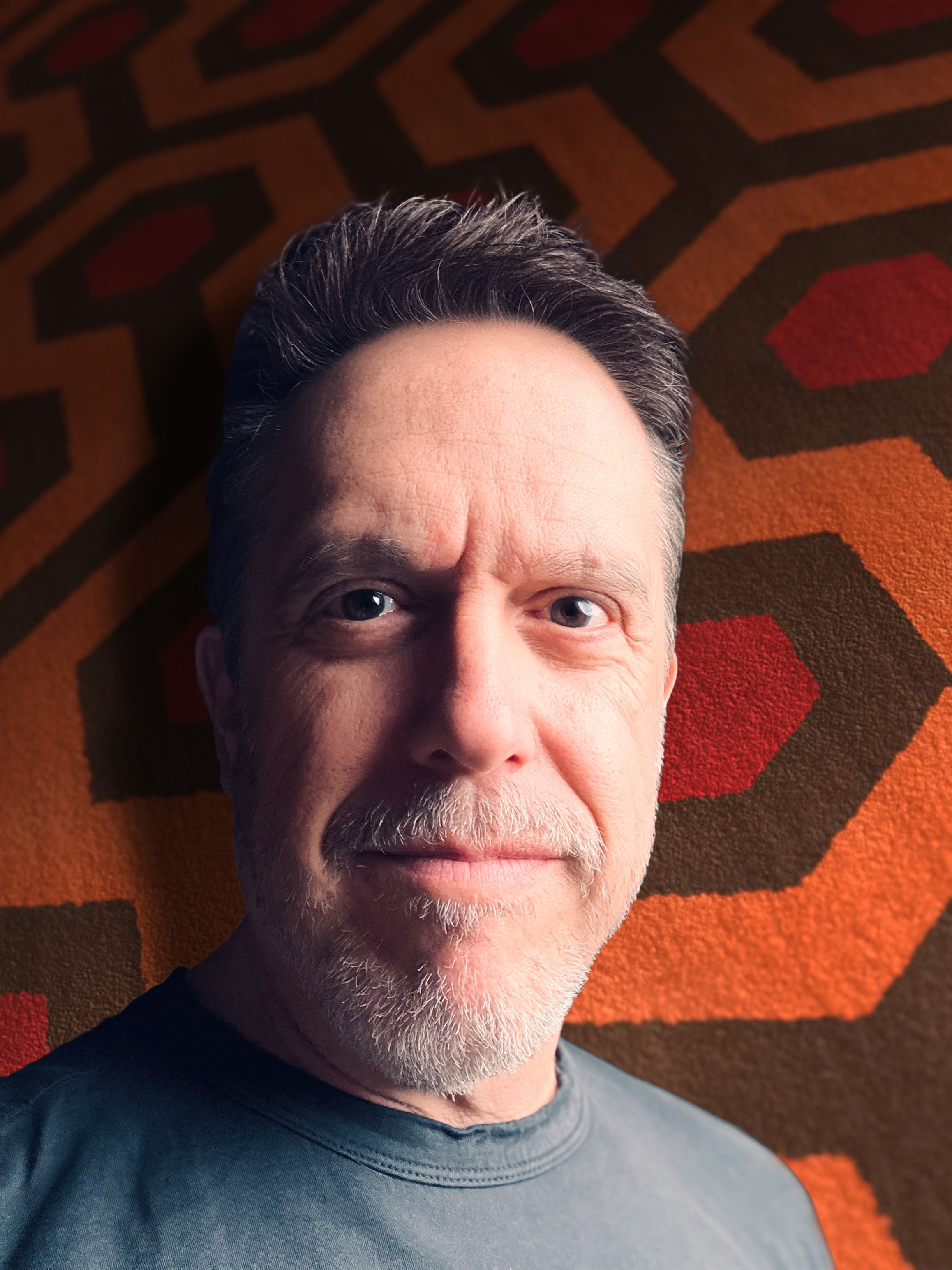 In its firm commitment to recognizing female figures in the fantastic genre, this year the Festival will be paying tribute to MARY LAMBERT, who has the distinction of helming the most successful horror film directed by a woman (with 'Pet Sematary', the famous adaptation of Stephen King's eponymous novel), and whose extensive career, both on the big and the small screen, is also corroborated in music video format (where we find groundbreaking pieces for famous artists including Madonna, Sting, Janet Jackson, Annie Lennox and Mick Jagger), where her status as living History of the audiovisual industry is also confirmed.
Italian cinema from past decades will shine with the attendance, firstly, of LAMBERTO BAVA, Roman director, screenwriter, producer and editor of "demonic" pedigree; and then with BARBARA BOUCHET, our Nosferatu Award, the iconic actress with strong roots in this country's filmmaking and a key name in giallo and detective movies.
And finally, it has also been announced that CHARLES BAND, our beloved "puppet master", whose vast career in horror films will be celebrated both as a director and producer, will be visiting the Festival.
The Festival That Can Be Read
Once again this year, Sitges will also be conveying its love for fantastic films through the written word. In our now traditional publications section, one of the leitmotifs of this 56th  edition will be crystallized. "CIUDAD PÁNICO" ("PANIC CITY"), about the city as a catalyst for terror, and which will be reflected on screen with a special focus where we will be able to rediscover titles such as David Cronenberg's 'NAKED LUNCH', Larry Cohen's 'GOD TOLD ME TO', Nicolas Roeg's 'DON'T LOOK NOW' or Pedro Olea's 'THE HOUSE WITHOUT FRONTIERS'.
In addition, as part of the WomanInFan initiative, "MISTRESS OF FAN. MONSTERS, CREATURES AND THREATS ENGENDERED BY THEM", about the female legacy in the creation and consolidation of some of the key figures and mechanisms in genre film. A book edited by Hermenaute and coordinated by Mònica Garcia i Massagué, with contributions by Alexandra Heller-Nicholas, Alexandra West, Jordi Sánchez-Navarro, Ángel Sala, Alan Jones and Mikko Aromaa.
Support for the 56th edition
Once again this year, the Festival is grateful for the commitment of all the cooperating institutions and companies: Moritz (main sponsor), Cupra (automotive partner), TV3 (official TV network), La Vanguardia (official newspaper), Catalunya Ràdio (official radio station) and Meliá Sitges (sponsor and official headquarters).
The Festival confirms its agreements with Aullidos, China Madrid, CineAsia, Cineinforme, Cinemascomics, Cinemes Verdi, Cobega-Coca Cola European Partners, Dama, Deluxe, ESCAC, El Cinèfil, FNAC, Fotogramas, Fundació Japó, FX Animation, Grup Flaix, Grupo Main, Hong Kong Trade Office, Iberia, IES Joan Ramon Benaprès Escola Hostaleria, Manuel Bundó Marqués S.L., Montaz Media, Nació Digital, Ocimag, Port d'Aiguadolç de Sitges, Reial Cercle Artístic, Renfe, Sensacine, SGAE and Fundació SGAE, The Original Cha-Chá, Tresc, Vertix and Wallbox.
Sitges 2023 is organized thanks to the participation of the Sitges Town Hall, the Retiro and Casino Prado movie theaters in Sitges, the Catalonian Generalitat's Department of Culture's Institut Català de les Empreses Culturals (Catalan Institute of Cultural Enterprises), and receives financing from the Ministry of Education, Culture and Sports' Instituto de la Cinematografía y de las Artes Audiovisuales (Institute of Cinematography and Audiovisual Arts), the Barcelona Diputació (City Council), the Servei Públic d'Ocupació de Catalunya -Conferència Sectorial d'Ocupació i Afers Laborals (Catalan Public Employment Service - Sectorial Conference for Employment and Labor Affairs), and the Carnet Jove - Departament de Benestar i Família (Department of Welfare and Family).