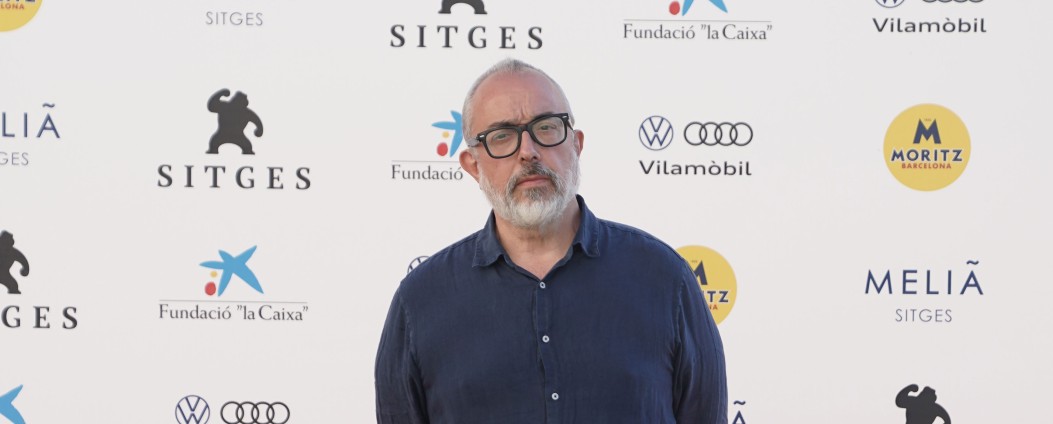 Interview with Álex de la Iglesia
By Xavi Sánchez Pons 
Álex de la Iglesia's new film turns the streets of Venice into a death trap. Veneciafrenia has a little bit of everything: masked killers, young dimwit party animals and a tragic antihero who wants to save the city from mass tourism. We spoke with De la Iglesia, Veneciophrenic creator. 
What is it about Venice that makes it such a popular city for thrillers and horror films? 
It's like a gigantic set, for me it's an incredible city, it's the most beautiful place in the world, and that's what I'm talking about in my film. It's one of the few places left where its beauty is still unspoiled, as if it's been preserved in time. It has a lot to do with genre, it's like a sort of corpse in formaldehyde, it's beautiful and sinister at the same time, it's fascinating and very scary at the same time, especially that center, so full of light and those little porcelain masks that are terrifying and creepy. 
Was it complicated to shoot it in Venice? 
Technically speaking, it's very tricky to shoot in Venice. You can't move around the streets very much, you carry all the film equipment in boats... It's godless work, it's very complicated. We learned little by little, we were warned, and we had an extraordinary crew working on it, but it was very complicated and at the same time very exciting and mind-blowing. It was a gigantic set for us, there was nobody there, we were on lockdown. 
There were no tourists… 
That's right, there were no tourists like in the movie (smiles). Every day when we finished shooting, on our way home we would walk through an empty St. Mark's Square. In fact, all the city's bridges and streets were empty. That made the experience hypnotic. Something that worked out really well for the film. 
Veneciafrenia places us all in front of a mirror to make us see a reality we don't want to see: we are all, in some way, those western tourists who go on vacation and destroy the charm of the most beautiful cities in the world. 
Totally, that's what one of the film's characters says: 'We're the ones to blame'. 
Where did the idea come from? 
It was because one day I suddenly felt guilty. All of a sudden, one day I thought: but I'm exactly like all these people. When faced with all of life's problems you try to separate yourself and believe that it's the others, but you're the main one, we're the main ones who are destroying the planet, and not only Venice. The feeling that we kill whatever we touch, whatever we like. In fact, we kill precisely what we like. Venice is dying day by day because of all its fans (laughs). All cities are living this kind of slow death, which is also as if we were cutting off their life support. For example, we already accept that the center is the tourist's domain, the domain of people who don't live there. 
Also related to this, there's a moment when one of the film's characters says the following: 'Tourists are a disease, the real plague of this century'. And that also made me think of the customized plague mask worn by one of the two characters played by Cosimo Fusco. Who designed it? 
The Plague Doctor's mask is the work of Nekro, he's a designer I'm absolutely crazy about, and he also made the poster. The creation process was simple: I went with Nekro's world. I told him: do whatever you want, I want the Plague Doctor and I imagine a strange baroque plague doctor. I told him: imagine if Venice were your world, and he did it exactly the way he likes it. And the other mask, the one of the jester, is an authentic commedia dell'arte mask, but it's made of leather and not paper, and it's one of the scariest and weirdest. 
Horror movie killers typically wear masks, and you went to Venice, the city of masks, to make a film that has neo-slasher elements. I think it's a really great connection. 
Masks have been one of the fundamental concepts in my life. We can't all wear masks, but people wear T-shirts with masks on them. On the one hand, the mask is an element that protects you, and on the other, it's an element that defines you. You are your mask because maybe your personal appearance or your look or your personal identity isn't defining enough for you, so you put on another one that is yours, that is your true identity. You're not hiding your identity but rather on the contrary, you're saying who you are when you put on a mask, put on a t-shirt or talk about film. When we talk about film, we define ourselves by the movies we like. All this is very present in the film. Then there's another very interesting element in Veneciafrenia that I would like to highlight, which is that the viewers of the murders in this film are also the tourists. The tourists are witnesses of their own deaths and they celebrate them happily because they are part of their show and at the same time they are also wearing masks, they are also playing a role, they are also saying we are the carnival, we are the fiction, and we are part of it. There is a very important element in the film, every time the jester commits a crime he says: it's fiction. 
One of my favorite moments in Veneciafrenia s when one of the locals at a bar shouts We are Venetians"! It reminded me of the Mutants, mutants, mutants! from Mutant Action. 
Yes, that's true (laughs). And that moment is very Dunwich movie, very Lovecraft, very mining town with deep ones. Or very group of coastal fishermen (laughs). 
Cosimo Fusco, who plays two characters in Veneciafrenia, has become your new favorite actor. How did you meet him? 
I met him when I was casting 30 Coins, they showed me a picture and I thought, how fucking powerful, right? When I met him I discovered that he is a real gem of a man. First of all he's charming, a very easy person to work with. And then he has zero affectation, he's an actor with a long career and great weight, but like I said, he has absolutely no affectation. In fact, he worked in Friends and somehow that rid him of any kind of affectation. He's a very normal guy. You can work really well with him because he lets you in on his process. It's funny because we feed off each other, on the one hand he lets me in, and on the other I tell him, I respect you, you do it, and let's see what happens. From that point on, I mark him, and I tell him I'd like this or that, but I start off from some incredible material that he already brings from home. One of the best sequences in 30 Coins, or maybe even the best, is when Cosimo is chained up in a hangar and they're saying he's the devil and so on, I have him here, Manolo Solo has him there and he says, I've had him here for a month (laughs). 
One of the characters played by Cosimo Fusco has a certain tragic anti-hero quality. Do you agree? 
Completely, a very important member of his family has been killed, and it's like he's in in a Verdi opera. 
What can you tell us about the next film from The Fear Collection? 
It will be Venus by Jaume Balagueró and it's the shit. I'm making a dream come true here, you don't know how good Balagueró's film is. He starts shooting in four weeks. 
I'm sure Balagueró will be able to go crazy again in this film… 
I insist on it! (laughs) Me and Sony! It's funny because Sony was saying to me more, more, more... and I said, calm down, this isn't a film to go too over the top with, but they wanted more. And with Venus I told Balagueró, I want it to be your best movie! 
Can you tell us a little bit about the storyline? 
It's the adaptation of a Lovecraft story, like I wanted, The Dreams in the Witch House. It's fucking awesome!