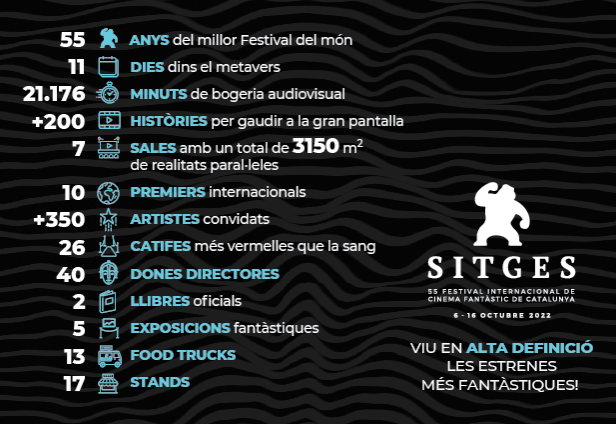 Once again this year the Festival will be at the forefront of international fantastic genre with a myriad of screenings, activities and industry events
Just two days and two nights before the kickoff of the 55th Sitges - International Fantastic Film Festival of Catalonia, the Festival offers its habitual overview of the data marking an edition that has not only recovered the pre-pandemic figures but has far exceeded them. From October 6th to 16th, visitors will be able to enjoy a lineup that offers a total of 283 cinematic works, of which 81 are short films and 4 are TV series. Among these nearly three hundred works, the Festival will have the honor of presenting 10 international premieres and 40 female directors who will be showcasing the important history of fantastic films directed by women. In addition, more than 350 national and international guest artists will be visiting the Catalan coast, 158 of whom will walk the red carpet representing 26 this year's most eagerly awaited projects. 
In addition, in the King Kong Area, the Festival's main center for socializing and relaxing, there will be 13 food trucks keeping fans afloat between films, 5 world-class art exhibits, and 17 stands in the Fanshop Area, where visitors can pick up merchandise from their favorite movies. Sitges 2022's screen is fully charged, so everything's ready to play!