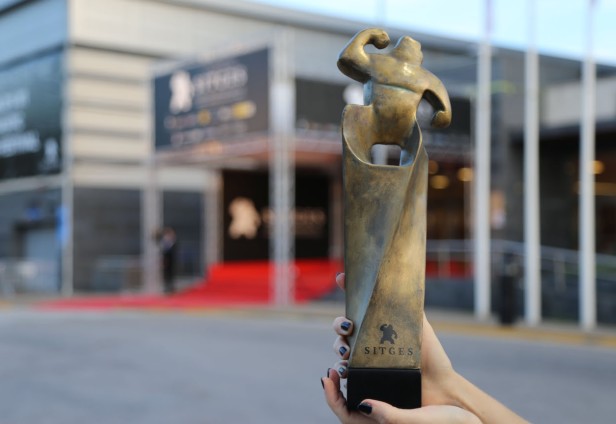 Sitges 2022: Loading 100% Complete
Makeup and special effects legend Colin Arthur will receive this year's Grand Honorary Award
The retrofuture has finally arrived. Just one week away from kicking off its 55th edition, the Sitges - International Fantastic Film Festival of Catalonia is getting its gala attire ready to welcome the best of both traditional and avant-garde genre films, from the latest by master Dario Argento to Ti West's most recent film, along with Luca Guadagnino, Masaaki Yuasa, Quentin Dupieux or, on the home front, Jaume Balagueró and Carlos Vermut. In addition to classic screenings, which will numb the hands of the enthusiastic fans who clap the most, the audience will be able to enjoy a wide range of industry and leisure activities, including captivating exhibitions, meet-and-greets with leading industry personalities, book presentations, musical sessions, etc. All this and much more, from October 6th to 16th.
Forty years after the premiere of Conan the Barbarian, Sitges will have the honor of once again receiving a visit from Colin Arthur, its legendary special effects artist, and will present him with the Grand Honorary Award. Arthur, who already attended the Festival as a jury member in 1993, is directly responsible for images and beings that have been etched into the collective fantastic genre imaginary, like the snakes from this classic Arnold Schwarzenegger movie, the blood gushing from the elevator of the Overlook in The Shining or the fabulous creatures from The NeverEnding Story. And so, the Festival will acknowledge the important contribution of this English artist, whose work under the orders of famous figures including Steven Spielberg, Pedro Almodóvar and Ridley Scott has left an indelible mark on the history of genre filmmaking.
This year's Méliès d'Or, awarded by the Méliès International Festivals Federation, will go to Claudio Simonetti, composer for some of Dario Argento's most emblematic films. When mentioning Simonetti, it's impossible not to recall the chilling celesta notes and bells in the main theme song from Suspiria or the synthesizer on the soundtrack of Deep Red. As frontman of the progressive rock band Goblin, Simonetti has created melodies that have contributed to laying the musical foundations of giallo, and which have been so widely replicated ever since.
In addition to the award winners, the Sitges Film Festival will have a myriad of visitors from very different corners of the world. In this regard, the number of guests has already reached and even surpassed the levels of the years prior to the pandemic. Oscar-winning French filmmaker Michel Hazanavicius will be landing on the streets of Sitges to present Final Cut, his return to comedy after eight years working in the field of drama. And he won't be doing it alone: award-winning French-Argentine actress Bérénice Bejo will be accompanying him as the star of this particular remake of One Cut of the Dead, a film that won audiences' hearts at the 2018 edition.
The iconic Robert Englund, known for giving life to the oneiric killer Freddy Krueger over the course of forty years and eight films, will once again be setting foot on Sitges' soil on the occasion of the premiere of Hollywood, Dreams and Nightmares: The Robert Englund Story, the documentary that pays tribute to his life's work, while at the same time highlighting his numerous projects beyond the mythical character conceived by Wes Craven.
Meanwhile, Lee Jung-Jae, the actor recently honored with an Emmy Award for his starring role in Squid Game, will also be visiting the Catalan coast to present Hunt, his directorial debut, a fast-paced thriller with political undertones that was a big hit premiere last May at the Cannes Film Festival.
As for the national scene, Nacho Vigalondo, the man responsible for essential Spanish fantastic films from the last two decades like Timecrimes or Extraterrestrial, will be part of the retinue for the second season of Historias para no dormir, which also includes other celebrities like Javier Gurruchaga or Javier Gutiérrez. The Academy Award nominee, whose last time in Sitges was in 2016 with the well-remembered Colossal, will be presenting The Alarm, a remake of the classic episode from Chicho Ibáñez Serrador's series where panic spreads when people hear that an extraterrestrial invasion is approaching.
Official Fantàstic Jury
Sitges 2022 is honored to have an official jury made up of five highly renowned figures from the film world, who will be putting their experience and criteria at the disposal of an Official Selection with so much to offer. The jury is integrated by director and producer William Lustig, best known for his horror classic Maniac and the B-movie thriller trilogy Maniac Cop; Argentine writer Mariana Enríquez, one of the most acclaimed voices in genre literature in recent years; distributor Christophe Mercier, former vice president of Fox Searchlight Europe, a position from where he conceived the launch campaigns for Birdman, Three Billboards Outside Ebbing, Missouri and The Shape of Water; Austrian actress Susanne Wuest, star of films including Goodnight Mommy and A Cure for Wellness; and Heidi Honeycutt, programmer of The American Cinematheque and co-founder of the Etheria Film Festival (a showcase for short films directed by women).
Parallel activities
This 2022, the King Kong Area will once again be brimming with entertainment. For the second year in a row, it will host the recreational activities for all audiences that take place during the Festival in addition to its screenings. It is a continuously running open area where you can discover all kinds of fantastic experiences: music, podcasts and screenings in the MEETING space, merchandise at the FANSHOP, gastronomy in the FOODTASTIC area and artistic programming at the MERCAT VELL.
After two years of avoiding the throngs of the living dead, on October 8th starting at 8 p.m. zombies will once again be roaming around the town of Sitges in our classic Zombie Walk. As usual, those who wish to participate will be able to get made up from 12 to 7 pm at the make-up tent, located in the FANSHOP area, at San Sebastián Beach. This year, it will be kicked off by director Michel Hazanavicius.
With an amusement-packed program, the MEETING area will serve as a meeting point for fans to enjoy its chill-out atmosphere, with DJ sets, recordings of radio programs including Tardeo or Pop y muerte, and photocalls. There will also be numerous meetings and presentations, such as the Blu Ray of the irreverent short film Fist of Jesus, directed by Adrián Cardona and David Muñoz, or the talk-debate "Where Does Paper Go?", where the current situation of independent publishers and fanzines in physical format in an increasingly digital world will be discussed.
Meanwhile, the Mercat Vell area will be hosting the Sitges Family programming, the Festival's lineup that rediscovers films programmed at previous editions for the whole family to enjoy, and Fantàstic Kids, where the youngest ones can enjoy free workshops, fantastic film screenings and genre literature readings for boys and girls. There will also be exhibitions such as Sus terrores favoritos (Their Favorite Terrors), curated by a selection of the best genre auteurs on the Spanish scene (Jaume Balagueró, Paul Urkijo, Paco Cabezas, etc.), which brings together objects related to Spanish fantastic horror films, or the exhibition Shaun Fantastic Visions, by Valencian artist Shaun Elay, which shows a selection of the most outstanding images of an artist who is characterized by her live negative illustration.
For the complete list of parallel activities, visit sitgesfilmfestival.live/
Sitges Industry
The Festival's professional section will be offering a wide range of activities ranging from round table discussions to project presentations as part of Sitges Fanpitch, as well as master classes by leading industry and film creation experts plus meetings with sector players in order to offer the best content for film industry professionals.
This year, the recipients of the WomanInFan grants will receive mentoring from Sitges regular Paco Plaza, an expert voice in horror movies. The director of REC or Verónica will be accompanying Eva Saiz, Estíbaliz Urresola and Anna Fernández de Paco throughout the Festival in their agenda of films, mentoring and industry sessions.
German actress and filmmaker Astrid Frank, one of the first benchmarks in horror films directed by women, will receive this year's Honorary Maria Award, in recognition of her immeasurable work as a filmmaker. Frank will be part of the round table discussion Female Fantastic Genre Film Creators together with writer Mariana Enríquez, director Carlota Pereda and programmer Heidi Honeycutt. She will also be interviewed by Heidi Honeycutt and look back over her entire career.
This year, for the first time, Unifrance will be supporting French genre films with the Unifrance x SoFilm x Sitges International Fantastic Film Festival initiative. Ten French feature film projects will be screened by their screenwriters as part of the Festival. The SoFilm residencies aim to become a veritable writing laboratory focusing on genre films (fantasy, science fiction, thrillers, horror, etc.) in collaboration with the CNC, Wild Bunch and Canal+.
Finally, the Success Factors for Seducing the Audience event will analyze four international films and television projects to understand the complex scenario of the global content market we are living in. The session will offer some insights into what can make an idea brilliant, as well as key factors that affect the audience when making decisions. The projects to be examined are Babylon Berlin (Tom Tykwer & Achim von Borries, 2017), Pan's Labyrinth (Guillermo del Toro, 2006), Melancholia (Lars Von Trier, 2011), and Lamb (Valdimar Jóhannsson, 2021).
Support for the 55th edition
Once again this year, the Festival is grateful for the commitment of all the cooperating institutions and companies: Moritz (main sponsor), Prime Video (multimedia partner), Sunglass Hut (fashion partner), So de Tardor (official white wine), Primavera Sound (featured partner),  Lavazza (official coffee), Vilamòbil Audi & Volkswagen (official vehicle), TV3 (official TV network), La Vanguardia (official newspaper), Catalunya Ràdio (official radio) and Meliá Sitges (sponsor and official headquarters).
The Festival confirms its agreements with La Filmoteca, Aullidos, China Madrid, CineAsia, Cineinforme, Cinemascomics, Cines Verdi, Cinesa,Cobega-Coca Cola European Partners, D.O. Ribera del Duero, Dama, DRoom, Ediciones Minotauro, El Cinéfilo, JAQUE, Flash FM, FNAC, Fotogramas, FX Animation, Hong Kong Trade Office, Iberia, IES Joan Ramon Benaprès Escuela Hostelería, Japan Foundation, Main, Manuel Bundó Marqués S.L., Montaz Media, Nación Digital, Ocimag, Patatas Piqué, Puerto de Aiguadolç de Sitges, Real Círculo Artístico, Renfe, Sensacine, SelectaVisión, SGAE and Fundación SGAE, The Original Cha-Chá, Tresc, Vertix and Wallbox.
Sitges 2022 is organized thanks to the participation of the Sitges Town Hall, the Retiro and Casino Prado movie theaters in Sitges, the Catalonian Generalitat's Department of Culture's Institut Català de les Empreses Culturals (Catalan Institute of Cultural Enterprises), and receives financing from the Ministry of Education, Culture and Sports' Instituto de la Cinematografía y de las Artes Audiovisuales (Institute of Cinematography and Audiovisual Arts), the Barcelona Diputació (City Council), the Servei Públic d'Ocupació de Catalunya -Conferència Sectorial d'Ocupació i Afers Laborals (Catalan Public Employment Service - Sectorial Conference for Employment and Labor Affairs), and the Carnet Jove - Departament de Benestar i Família (Department of Welfare and Family).