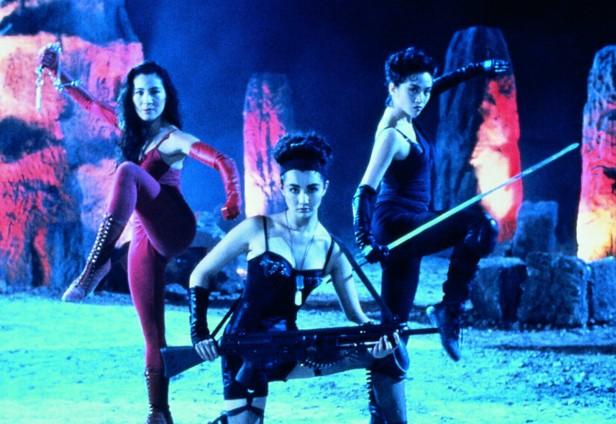 Seven Chances Presents an Eclectic Selection of Must-See Rarities and Restored Gems
Among the films programmed in collaboration with the ACCEC are pioneer Stephanie Rothman's The Velvet Vampire and other works by filmmakers including Jesús Franco, René Laloux and Johnnie To
Once again, with the intention of continuing to discover and champion films that have tiptoed by the canons of the fantastic genre, the Catalan Association of Film Critics and Writers (ACCEC) and the Sitges - International Fantastic Film Festival of Catalonia have selected seven films that will be presented by members of the Association.
We will be opening Seven Chances with a film by Jesús Franco, Faceless (Los depredadores de la noche), starring our Nosferatu Award winner this year: Brigitte Lahaie, a legend in European erotic and fantastic films of the 70s and 80s. Before definitively surrendering his mind to more and more radical tendencies, in the late eighties Franco directed his last major contribution to a certain type of European fantastic genre that was beginning to die out. With his sights set on Georges Franju's Eyes Without a Face, the Madrid-born filmmaker conceived a macabre intrigue about a surgeon obsessed with reconstructing his sister's disfigured face.
Recently restored by the American Film Archive and screened at New York's MoMA's outstanding fantasy film series this summer, The Velvet Vampire can be considered the first horror film directed entirely by a woman. Stephanie Rothman had to turn down a couple of assignments from Roger Corman to take a personal shot at the bewitchment of a young married couple by a century-old vampire. Reviled at the time, the film redefined the codes of the vampire genre in a female and subversive way.
Hongkonger Johnnie To should need no introduction in Sitges. Jumping a year ahead of the thirtieth anniversary of The Heroic Trio, the first of his emblematic films and released in 1993, we rediscover it to be able to savor it on the big screen, this vibrant and imaginative action extravaganza captained by three fearsome women -Michelle Yeoh, Anita Mui and Maggie Cheung-, three heroines who will discover what unites them as a result of a baby kidnapping scheme.
The greatest Iberian exponent of the Eurowestern returns to Seven Chances: Joaquín Romero Marchent's Cut-Throats Nine is perhaps the harshest and bloodiest of all his films, during which we will accompany a group of death row inmates on their ordeal through the Aragonese Pyrenees, where the film's exteriors were shot. Quentin Tarantino is an avowed fan of this film, which is practically a slasher movie in the snow.
Often overshadowed by other filmmakers with greater international prestige, Masahiro Shinoda was one of the big names behind the Japanese new wave, that of Oshima, Imamura or Seijun Suzuki. In Demon Pond, which was shown with its meticulous restoration at the Cannes Film Festival in 2021, he transports us to a small village in the mountains that lives in fear of the legend of the dragon that lives at the bottom of a pond. Based on a Kabuki play by Kyöka Izumi, a writer closely linked to fantastic genre and surreal atmospheres, Shinoda crafts an astonishing fable of tragic love.
Artisan Maurizio Lucidi also began his career making spaghetti westerns, peplums and war films, but it would be the offbeat giallo The Designated Victim, his only foray into this subgenre, which would eventually become a cult piece. This tense revisiting of Hitchcock's Strangers on a Train places us in a decadent Venice where a flamboyant count, played by Pierre Clémenti, ropes in an ambitious businessman with Tomas Milian's face to commit an exchange of murders.
And finally, a seldom-seen gem in European animation: Gandahar, the last feature film by René Laloux, auteur of the seminal Fantastic Planet. After working with artists including Roland Topor and Moebius, Laloux teamed up with French cartoonist Caza to bring a novel by science fiction writer Jean-Pierre Andrevon to the silver screen. This tale of fantastic adventures shows us an idyllic civilization, which has never known the horror of war and is forced to face a threat from a remote future.
These are Sitges 2022's Seven Chances. Seven unique opportunities to rediscover unique works, often sidelined by circumstance or the passage of time, which are proof that in the boundless constellation of fantastic genre there is still much to be explored.
Faceless (Los depredadores de la noche) (Jesús Franco, 1988), presented by Carlos Losilla
The Heroic Trio (Dung fong sam hap) (Johnnie To, 1993), presented by Violeta Kovacsics
The Designated Victim, (La vittima designata) (Maurizio Lucidi, 1971), presented by Javier Parra
The Velvet Vampire (Stephanie Rothman, 1971), presented by Marga Almirall
Demon Pond (Yashagaike) (Masahiro Shinoda, 1979), presented by Mariona Borrull
Cut-Throats Nine (Joaquín Romero Marchent, 1971), presented by Alejandro G. Calvo
Gandahar (René Laloux, 1988), presented by Iván Pintor