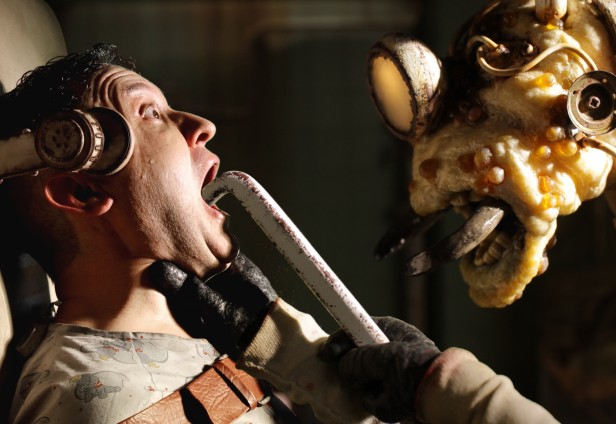 Small Format Captures Sitges 2022
Once again this year the Festival will be presenting the best selection of fantastic genre short films
Reduced runtime productions also have a niche in the Festival's lineup. Sitges' filmgoers will be able to enjoy approximately sixty short films full of explosive ideas and focused, direct concepts. And so, the Festival will not only champion this format, which often serves as a starting point for future directors of highly acclaimed feature length films, but also those filmmakers who have mainly carved out their artistic careers in this field, like Claude Luyet or SAM.
Jaume Balagueró, a fundamental figure in Spanish genre filmmaking. will be kicking off this year's edition twenty-eight years after picking up the Award for Best Short Film with his debut work, Alicia. This year Carlos Vermut will also be presenting his fourth film thirteen years after his debut short, Maquetas, took Sitges' audiences by surprise. The Festival has always promoted and welcomed this format, which sharpens their creators' ingenuity, and this year both promising young directors and experienced filmmakers will be attending.
In this regard, the Official In Competition Fantàstic Selection will offer a diverse assortment of artistic manifestations, all of them bringing a special sensibility to the fantastic genre. We can find discourses on the contemporary world in Gideon Van der Stelt's New Babylon, a futuristic dystopia about individualism; in Kim Kokosky Deforchaux's Hantu, an approach to the colonial wounds still present in our society, and in Sang-hoon Ahn's Ding-Dong Challenge, a commentary on the Z generation and the virtual world not so different from André Leblanc's Creator.
We will also be able to enjoy different incarnations of the killer figure, like the dog in Good Boy, Eros V's sixth short film; the mermaid in Mermaid Killer, directed by Israel González and Joel Codina, or the sadistic game in Jordan Giusti's Reptile. We will also have bizarre premises (The Newt Congress, by Matthias Sahli & Immanuel Esser), experimental creations from the formal point of view (Fredrik S. Hana's From Beyond), and even daring cross-genre fusions, as is the case between futuristic dystopia and western in Matt Inns' The Ballad of Maddog Quinn, or between science fiction and zombie movie in Zombie Meteor, by José Luis Farias and Alfonso Fulgencio.
In addition to this last short, the Spanish panorama will be featuring names that are already Sitges regulars. SAM, who presented Routine: The Prohibition at the 2020 edition, will be bringing us Paralelos, his ninth short film. On the other hand, Daniel Padró will be presenting his fifth short, Psicario; Joseph Díaz will be screening his terrifying The 6 Relics of Helena Mason; Iván Villamel will deliver his La nueva, and Ignacio Malagón will introduce us to the pagan ritual of Ad Inferos, among many others.
The Anima't section will be, once again, undeniable proof of the good health of animated films, including both emerging filmmakers and long-standing short filmmakers. In the second group are veterans like Claude Luyet, who will be presenting Lucky Man; Anna Solanas and Marc Riba, who with an 18-year career behind them will this year be screening El matí del señor Xifró; Alain Fournier, who will present an adaptation of a story by H.P. Lovecraft entitled The Temple, or Hungary's Balázs Turai, whose short, Amok, arrives in Sitges after having been a big hit at numerous European festivals.
On the other hand, we will also be able to enjoy new and promising voices in European animation, like Jean-Jean Arnoux and his Mon Tigre, Raphäelle Stolz and her Miracasas, Joost Jansen and his third short Drifter, or Joachim Hérissé and his terrifying Écorchée. Neither will there be any shortage of more explicit reflections on political and social issues. Examples are Sean Buckelew's Drone, Hamid Mohammadi's The Past and Markus Wulf's Louis I, King of the Sheep.
Noves Visions will welcome this format's most intrepid entries. Mental health, a recurring theme in contemporary fiction, will be present with Nau, Renata de Lélis' second short film, and Waving, where Rolfin Nyhus and Steven Brumwell aim to raise awareness about Obsessive Compulsive Disorder. Gonzague Legout will bring the art-house touch with Il y a beaucoup de lumiere ici, filmed in blinding analog black and white, while Laura Guerricaecheverría's Holiday will immerse us in its supernatural atmosphere.
The Brigadoon section is no stranger to small format either. Among its more than forty works are eight short films that will delight the Escorxador's audiences: Chelsea Lupkin's Scooter; Michael Anthony Kratochvil's I Call Upon Thee; Raul Cerezo and Carlos Moriana's El semblante; Olivier Labonté LeMoyne's Nu; Tommaso Ottomano's Paura: Tommaso Ottomano's La notte di Evelyn; Matteo Macaluso's L'armadio (The Closet); Isaac Berrocal Bravo's La ceremonia; and Dylan Ashton's Seaborne.
Finally, the SGAE Nova Autoria Awards section, that the Sitges Festival organizes together with the SGAE and the SGAE Foundation, through the SGAE's Territorial Council in Catalonia, will feature the participation of thirteen works by different film schools and universities from around the autonomous community. These films are: Carla Carreras Palau's Agoraphobia; El balneari by Max Sorribas and Eloi Román; Maddi Sánchez's Encantado de conocerte; Albert Perdices' Frío polar; Javier Vargas' Invisible; Sergio Avellaneda's Mira niño; Héctor Medrano's Ningú ho podrà creure; Àlex Mateu's No et preocupis; Diego Acosta's Piedra; papel; tijera; Iván Sitz's Sucio; Albert García Boté's Sweet Side; Ariadna Pastor's Tornar a casa; and Wellness, by Núria Gebellí, Maricella Vilca, Diego Véliz and José Javier Castro. And so, the Festival once again reaffirms its commitment to new creators, who represent the film industry's most immediate future.